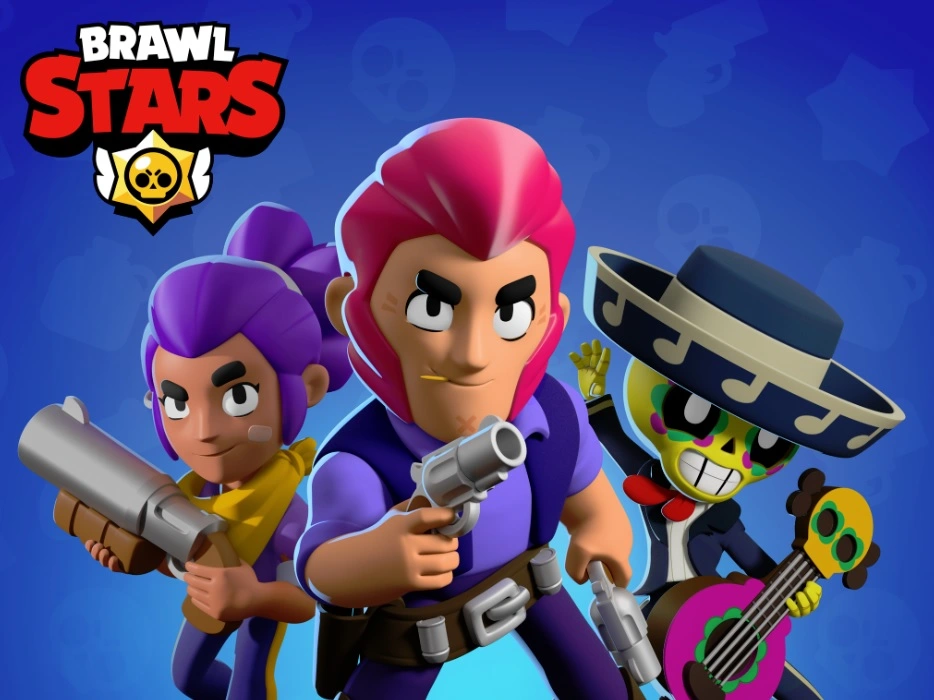 Brawl Stars has a variety of different Brawlers you can play, but some are more effective than others. Our Brawl Stars List will help you find a few characters that may be helpful in battle!
Some brawlers are clearly more powerful than others. The player can choose which type of game to enjoy and experiment with new strategies against fellow players from around the world.
Brawl Stars has a tier list that changes from time to time and will likely be updated in the future. However, we've got a list of the top competitors as of November 2022 already.
Here are the best ones in Brawl Stars, detailing each Brawler in the game and their use. We will cover S+ as they are the best Brawlers in the game.
The list goes from top to bottom.
Who Is the Best Brawler In Brawl Stars?
Fang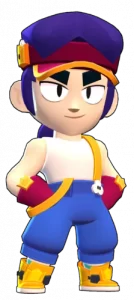 Fang has high health, a high damage output, and a fast movement speed. His attack is a kick that deals high damage, but is short in range. If he doesn't hit an enemy with his kick, his shoe flies off, gaining additional range but dealing a lot less damage.
His super is a powerful kick that makes him fly and deal damage to enemies. If an enemy is nearby the targeted enemy, Fang bounces to them, and he can hit a maximum of 4 enemies with one super. Sometimes there is a glitch where he can hit 5 enemies
Attack: Wu-Shoe
Fang launches a single kick that deals high damage to enemies, his shoe flies off and he gets more range for the attack. The shoe has limited damage for what it does as it charges up based on when the player fires it, but because of how powerful the kick is, you should probably use it every time.
Super: Sneak Ahead
Fang uses his ultimate, "Super Dash" in order to make his way to foes. If there is an enemy behind a wall, he bounces off the wall to reach them. Fang can hit up to 4 enemies with one Super and still take damage during it or from enemies nearby when it is over.
Bonnie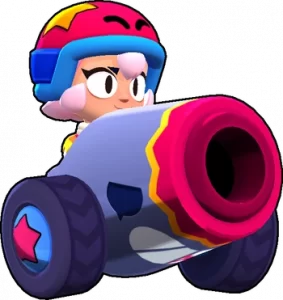 Bonnie is a high health and long range brawler who can also form a cannon that deals high damage but has low health.
Bonnie has a slower movement speed in her cannon form but very fast movement speed in her alternate form. In cannon form, Bonnie can shoot her opponent with a slow, powerful spear that deals significant damage. If Bonnie is eventually defeated, she will return to her cannon form
Attacks
Cannon: Loose Tooth
In her cannon form, Bonnie fires a long-ranged tooth. Her special is the Brawl Ball, which does not consume ammo.
Bonnie: Bomber Jacket
Bonnie fires three bullets, each exploding within a small radius.
Super: Star Launcher
Bonnie uses her power-up to fly over obstacles. When she lands she changes form, making the attack stronger and doing damage to nearby enemies.
Bonnie's guns always have her back, and they can make even the toughest fight feel like a walk in the park.
Byron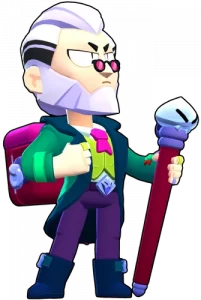 Byron has a high amount of damage output, but only moderately effective self-sustainability and mediocre burst power.
This is Clint's Super. It's a long-ranged damage attack that darts enemies and heals allies over time. It lobs a potion that damages/heals all of the targets in the splash radius upon impact.
Attack: Careful Dose
By attacking an enemy, you can explode to ward off other enemies in combat. Watching an ally on the horizon burst into life is a turn of events that most players wouldn't expect!
The item currently has a stacking effect, meaning that if you want to attack or heal the same target more than once, there is no diminishing returns. The timer for both attacks & heals are instantaneous and there is no cooldown for reloading them either. Byron's special ability also decays quicker to make it easier to evade opponents.
Super: Full Treatment
Byron throws a vial at his enemies and it instantly heals any nearby heroes and damaging those who are in range. It also has a 2.67-tile splash radius
Leon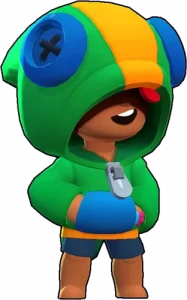 Leon is a Legendary Brawler who uses spinning blades to deal less damage from afar. Leon can turn invisible for a short time by performing an attack.
So, his first Gadget, Clone Projector, produces a clone of himself to confuse enemies. His second Gadget, Lollipop Drop, drops a lollipop that makes his teammates and him invisible in the area it's in.
Attack: Spinner Blades
Leon fires four blades that cause a massive amount of damage to anyone in their path, so he can escape quickly.
The damage dealt to targets depends on how far away they are from Leon. Targets near Leon will take the most damage, and those a little further will take significantly less. The attack takes around 0.55 seconds to complete.
Super: Smoke Bomb
Leon has a new Super in his arsenal that allows him to be invisible for 6 seconds. If he is within 4 tiles of an enemy, they can see him. However, if he takes damage while invisible, he loses the invisibility effect and becomes visible.
Sprout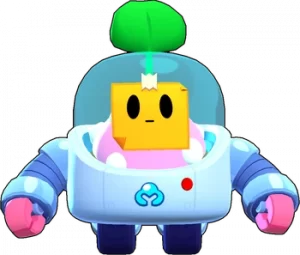 Sprout is a Mythic Brawler with moderately low health and moderate damage output, but immense utility with its Super. It throws out a seed bomb over obstacles and clings to walls in an effort to get around them.
A bomb explodes on contact with enemies or after a brief period of time, dealing area damage.
Attack: Seed Bomb
Sprout shoots a ball of seeds that explodes when it comes in contact with an enemy. Depending on its probability, Sprout may also bounce for 3.33 tiles before exploding in a 4-tile wide area, or just explode on contact like a traditional bomb would do.
Super: Hedge
Sprout's Super Seed is super easy to use and create a barrier it throws as a 3-by-3, 5-tile cross pattern that blocks enemies and allies on the go.
However, if there are walls anywhere nearby (i.e. at most one tile away) then the hedge will grow towards them and the walls are connected through it.
Squeak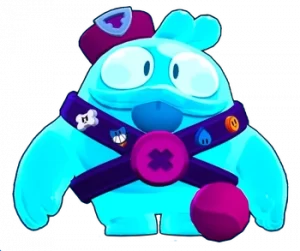 Mythic Brawler, Squeak is durable and has a moderate attack power. The goo that he shoots increases his damage output & sits on the field while waiting for him to strike.
Your enemy waves his main attack, but then the ball that is attached to it explodes, making your task easier.
Attack: Sticky Blomb
Squeak attacks enemies by launching a blob of goo that sticks to obstacles and target before exploding, damaging anyone in a 2.67 tile radius after 1.15 second delay, similar to Bo's mines.
The blobs will stop their range, and subsequent explosions occur regardless of where the enemy actually stood. These explosions can damage enemies who were behind walls.
Super: Big Blob
Squeak throws a giant ball of goo that explodes upon landing, sending out six secondary Sticky Blombs in a hexagon pattern around the area they land. For each Sticky Bomb that is alive, there is an explosion radius of 1.33 tiles outward in the same direction they travel.
Crow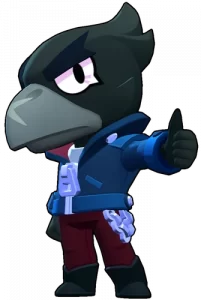 Crow is a menacing Brawler with low health, but a high damaging fireball which has extra damage over time. He jumps really high and moves very fast too.
He attacks by firing 3 long-ranged daggers that inflict poison on his enemies. Crow's Super gives him extra jump power and letting him throw out poisonous daggers upon take-off and landing.
Attack: Switchblade
Crow throws three long-ranged daggers simultaneously in a slight spread. These daggers damage enemies upon contact, while also inflicting poison to enemies over time. The poison lasts for 4 ticks, deals 25% of his basic damage, and prevents the enemy from automatically healing.
Regardless of the number of times Crow has hit an enemy with the attack, they'll only receive a single stack of poison. The poisoned enemies will have some healing sources limited by 40%, but that isn't reduced further by Max's Sneaky Sneakers Gadget.
Super: Swoop
Crow jumps into the air and throws 14 daggers around him that spread out as they travel. He then leaps back up in the air, firing another set of 14 daggers around him upon landing.
Crow's Super Dagger has a passive effect which makes him nearly unassailable while in the air. This isn't to say that he won't take damage, but aside from the various status effects and damage applied over time, Crow is able to deal with any other form of attack.
Sam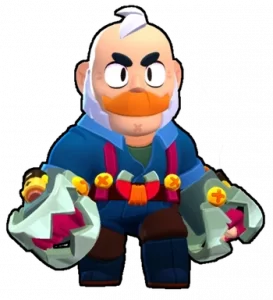 Brawlers with a special ability are often unlocked by reaching new season rewards. For the Robot Factory, get your Chromatic Brawler to Tier 30!
Sam is equipped with the Trait which lets him fight from the first move. He also has a powerful Super to get the job done beforehand. In addition, his natural punch & kick combo deal extra damage if his Knuckle Busters are equipped.
Attack: Heavy Haymakers
Sam's Knuckle Busters are a weapon specifically for this attack. It deals significantly more damage as well as having quicker movement, making it easier to focus on enemies.
Sam's reload speed also changes; it is faster with his Knuckle Busters equipped, but slower without them.
Super: Knuckle Busters
Thanks to Knuckle Busters, Sam gains a lot of momentum and can stick close to his targets before making a move. When he throws them, they strongly penetrate enemies along the way and allow him to increase his movement speed for 2 seconds.
Without his Knuckle Busters, Sam can charge his Super by either dealing damage to enemies, by picking them up, or by using his Remote Recharge Star Power; activating his Super makes his Knuckle Busters fly back to him, pierce through enemies along the way.
That would conclude our list of Top Brawlers. In this very moment, these are the best brawlers you can use until the next update.
Hope you found this useful.
How to Get Gems In Brawl Stars?
If you want Brawl Stars Free Gems head over to our Brawl Stars Hack post.
On the bottom of the page you will find a generator which will give you all the gems you need.
The method is tested and fast, so no need to hesitate on using it.
All the best!