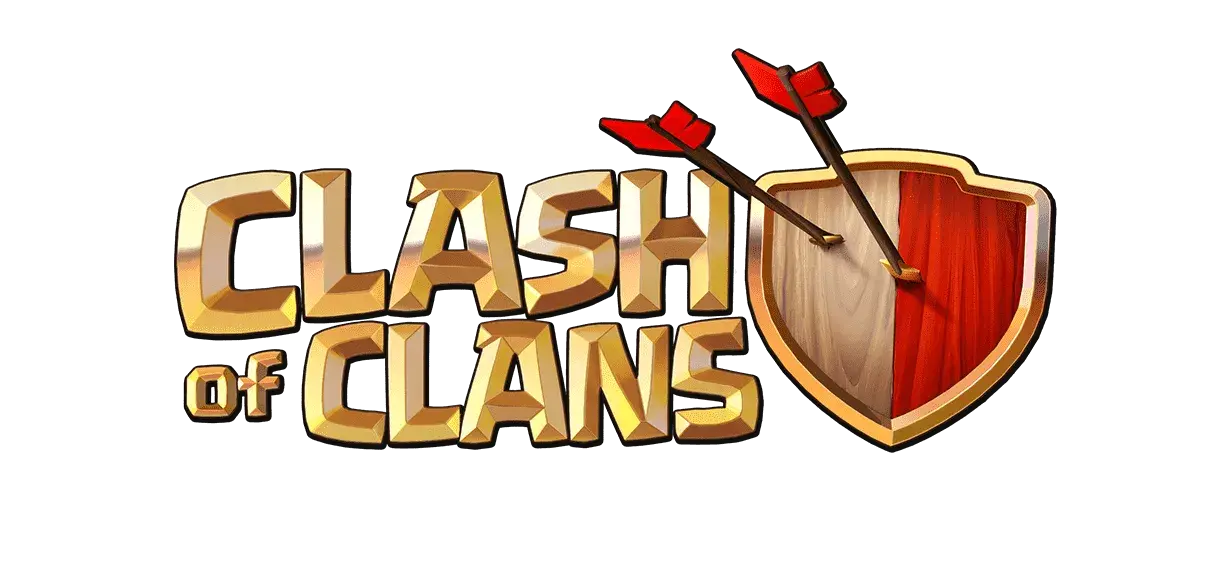 Clash of Clans was released in 2012 and is a pretty popular game. It's popularity is mostly due to new players and content getting added all the time, which makes it draw a constant set of gamers.
The mechanics of the game haven't really changed a lot over the years, but this shows how effective and popular it still is.
One key element in Clash of Clans is designing bases. The layout of defense structures and buildings can make a huge difference to the health of your base, even if you spend a lot on defense.
A well-designed Clash of Clans base will usually be able to prevent invasion, even if the defenses are not strong.
Developing a base layout for your game's specific purposes is an effective way to start. Bases can save resources, earn trophies, or be used in clan battles. The best layouts are those that take into account your values and the game's objectives which can be learned as people explore different types of bases.
Farming base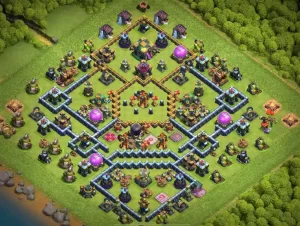 Farming bases are made to protect Elixir, Gold and Dark Elixir from being taken by making other targets easier to steal from. Minor resources are given up in exchange for major resources that are more difficult to raid and guard.
Other storage is spread all over the base, defended enough to keep it safe. Players aren't saving trophies, they just want their loot so all defenses should be focused on preventing them from getting any.
To oppose the opponents army, take some high-damaging troops in Clan Castles like Super Dragons, Wizards, etc
Trophy base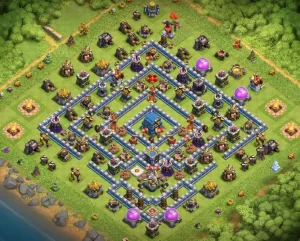 Trophy bases are designed to protect trophies. The player will have to continuously defend the Town Hall because its destruction grants a star and, as a result, some trophies for the attacker.
You should also try to defend the Town Hall from being destroyed by your enemies. If you are lucky, it will give you stars and trophies for any successful defense.
To take down troops, defences surrounding your Town Hall should have X-bows & Inferno Towers. They can "eat" damage by using storage as tanks.
To make it impossible for an unprepared attacker to reach 50%, defend your most important structures close to even the relatively weak defenses.
Hybrid base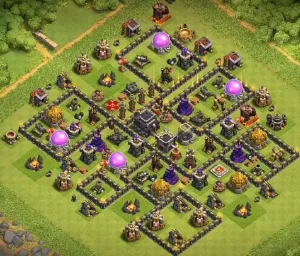 Clash of Clans is a popular game which focuses on both farming and trophy collection. The most common base is a hybrid base, as it will secure your trophies as well as your resources. The Town Hall & storage are both central to this type of base.
Buildings and structures are used as defensive shields, while Clan Castle troops always contain high-health troops like golems. This reduces the damage and lets you manage your resources better.
War base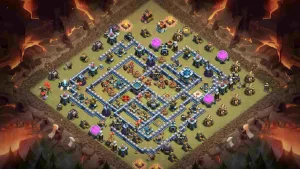 In Clan Wars, bases are used to prevent enemies from gaining stars. They're typically built to prohibit two, three or sometimes more stars per enemy wave.
A good war base can stop the opponent from achieving their goal of earning three stars. A player with a better base might force their opponent to attack them many more times in order to achieve victory.
The primary goal of these layouts is to prevent 3 stars, which typically requires sacrificing resources and the Town Hall. To do the most damage these layouts place defensive structures in the center of the base where they are most effective.
Enemies will find it difficult to lure troops when you keep your Clan Castle in the middle of your base.
Now that you are familiar with different base types you can decide for yourself which kind suits you the best. In our experience, hybrid bases proved to be the most effective so you might as well try it yourself.
How to Get Free Gems In Clash of Clans?
If you constantly find yourself running out of resources in Clash of Clans, simply turn to our Clash of Clans hack for solution.
You can generate free gems in a matter of seconds without paying a cent out of your pocket with our Clash of Clans hack.
This method is used world wide and most importantly efficient and reliable. Check it out!