Geometry Dash, a pulsating rhythm-based platformer, captivates players as they guide an icon through a maze of intricate obstacles, all while vibing to dynamic music tracks. In this guide, we'll share the latest Geometry Dash vault codes for October 2023, give you some handy tips to do better in the game, and show you how to get more resources easily.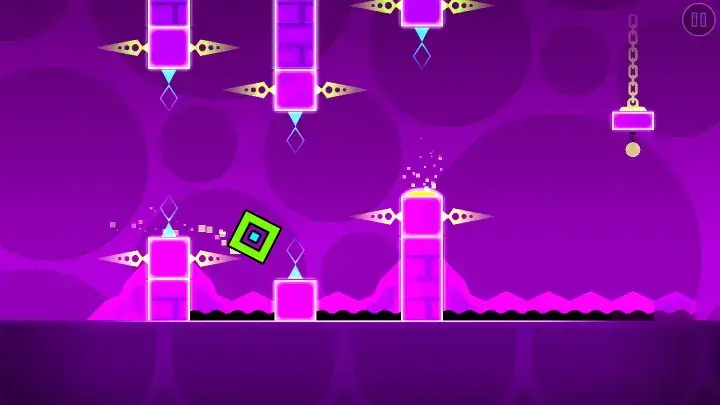 Let's make your Geometry Dash experience even better!
All Geometry Dash Vault Codes (Active)
Getting your hands on vault codes isn't always a walk in the park. But that's what makes it even more rewarding. Most of these codes give you cool cosmetic items, but sometimes, you might unlock special levels or snag some awesome free stuff.
The Vault
To access the first Vault in Geometry Dash, you'll need 10 Silver User Coins. Here's a step-by-step guide to help you out:
Play Online Featured Levels. In each of these levels, there are three coins to collect.
The catch? You have to grab all three coins in a single level without losing a life.
Once you've gathered 10 coins, head to the main screen and click on the Cog icon at the bottom.
In the top right corner, you'll spot an unlocked padlock. Tap on it.
This takes you to the Vault. Here, you can enter the codes in the provided text field.
Here is the list of active codes:
Lenny: Gain access to the Lenny Icon.
Blockbite: Discover a unique UFO.
Spooky: Unveil the Shy Guy Icon.
Neverending: Unearth another UFO.
Mule: Commandeer a Ship.
Ahead: Take the helm of a spaceship-themed Wave.
Gandalfpotter: Light up with the Triangle Trail.
Sparky: Procure the Secret Coin.
Robotop: Activate a Robot.
[Your Username]: (Replace with your actual username) Reveal an Eye Icon.
8-16-30-32-46-84*: Decode the secrets of the Illuminati Wave.
The Vault of Secrets
To access the Vault of Secrets, follow these simple steps:
Collect 50 Diamonds. This is your ticket to the Vault of Secrets.
From the Main Menu, find the Tool button, which is to the right of the Play button.
Look closely in the top right corner of your screen. Spot the unlocked padlock? That's your entry point.
Click on that padlock to step into the Vault of Secrets.
Once inside, you'll find a text field. This is where you type in your codes.
Here is the list of active Vault of Secrets codes:
Robotop: Get a Robot.
Octocube: Unlock the Octopus-Shaped Icon.
Brain Power: Dive into the Brain-Shaped Icon.
Seven: Sport the Finn (from Adventure Time) Icon.
thechickenisonfire: Color up with Swamp Green.
The Challenge: Unleash the Vault Keepers level.
Gimmiethecolor: Embrace a Deep Red shade.
(Your number of stars): (Replace with your star count) Secure an Icon.
It's a Puzzle: Solve for another Icon.
Glubfub: Discover a Secret Coin.
The Chamber of Time
Unlocking the third Vault, The Chamber of Time, requires a series of steps, but let's break it down simply:
Start with the Second Vault: Before accessing the Chamber of Time, you need to unlock the second Vault.
Use the Code: In the second Vault, enter the code "The Challenge."
Special Challenge Level: This code opens a unique challenge level. However, there's a catch: it costs 200 Diamonds to get in.
Meet the Prisoner: After you conquer the challenge, there's a door below. Open it and chat with the individual trapped inside.
The Keyholes: Notice the three keyholes? Click on each of them.
Now, let's find that elusive door:
Main Level Selection: Head there and scroll to the very end, where you see "Coming Soon" after "Fingerdash."
The Blue I: Spot a blue "I" in the top right corner? Click it. A new window pops up.
Secret Door: With the new window open, click the ground right under the text box. Surprise! A door materializes.
And there you have it! The pathway to the Chamber of Time laid out for you. Now, let's check out the codes:
Silence: Grab an Alternative Default Icon.
River: Dive into a Dark Green hue.
Darkness: Uncover a Face Icon.
Volcano: Ignite with a Wave.
Hunger: Feast on a Hungry Icon.
How to Redeem Geometry Dash Vault Codes?
First things first: ensure you're playing the full version of Geometry Dash to claim the goodies.
Can't instantly access the vault codes! Play the game and unlock all three vaults to redeem the codes.
How to Get More Vault Codes?
Stay tuned with us! We'll promptly share new codes as they emerge. A quick tip: redeem codes swiftly, as their validity can be short-lived. Rest assured, all codes here are tried and tested. Spotted an expired one? Drop the exact code in the comments, and we'll sift it out.
How to Earn Free Stars?
Navigating the world of Geometry Dash can be daunting, especially when stars are the ultimate mark of prowess.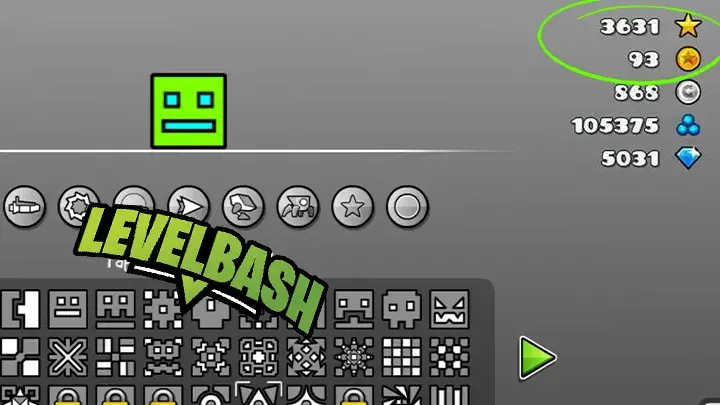 Play Levels Consistently: The key to quickly earning stars in Geometry Dash is consistency. Instead of tackling levels that are too challenging and require multiple attempts, focus on levels you can complete in just one or two tries.
Determine Your Skill Level: Spend some time understanding which difficulty level is most suited for you. This involves playing different difficulty levels and gauging which one you can complete consistently without too many retries.
Avoid Very Difficult Levels: Although tempting, grinding Auto levels, Demon levels, or ones that take 10-20 attempts might not be efficient. The extra stars awarded for these more challenging levels don't always justify the time spent.
Efficiency is Key: Play the hardest difficulty that you can complete swiftly and consistently. Even if they award you fewer stars than the more difficult levels, the speed at which you can clear them makes up for it.
Analyze the Data: As the research showed, different star levels have different efficiencies. For instance, four-star levels yielded an average of 144 stars per hour, while five-star levels were slightly less at 135 stars per hour. Six-star levels dropped significantly to 90 stars per hour, and seven-star levels were least efficient with 70 stars per hour.
Avoid Getting Distracted: While playing, avoid going for coins unless they're easily attainable. Although they can provide additional satisfaction, they might disrupt your flow or increase the time you spend on a particular level.
Adapt and Change Levels: If you find a level too challenging to sight-read or keep dying at a particular spot, don't hesitate to abandon and choose another. Remember, the goal is productivity.
Expand Your Level Repertoire: Playing more levels not only helps in earning stars but also introduces you to a variety of designs, helping you improve your gameplay.
Stay Updated: Keep an eye out for new levels and updates that may introduce new methods or easier ways to earn stars.
Practice and Patience: As with any game, practice makes perfect. The more you play, the better you'll get, and this will naturally lead to earning stars faster.
Earning them faster becomes a challenge many players grapple with. After extensive gameplay analysis, we've pinpointed an optimal strategy to boost your star count. Read on to discover a simple yet effective approach to accumulating more stars and soaring up those leaderboards.
How to Get All Secret Coins?
Main RobTop Levels: Collect 63 secret coins by playing all the main levels designed by RobTop.

Map Packs: Secure an additional 83 coins by navigating through all map packs.
Special Secret Coins:

First Coin:

Navigate to the vault located in the settings. Once there, enter the code "Sparky", and you'll be rewarded with a coin.

Second Coin:

Scroll through all of the main levels thrice. Once you've done this, you should encounter a specific indicator or event which will grant you the coin (the exact event is not clear from the transcript, but presumably, there is a visual or audio cue that players will recognize).

Third Coin:

First, acquire the Vault coin.
Proceed to the "Vault of Secrets".
Engage with the button until "Sparky" is mentioned.
Persist until "glubfop" comes up.
Type "Club" in the Vault of Secrets to secure the coin.
Unlock all the secret coins in Geometry Dash with this straightforward guide. From the main RobTop levels to the elusive special coins hidden deep within the game's settings, we've got you covered. Dive in and ensure you collect every last coin!
Tips, Tricks and Strategies to Get Better in Geometry Dash
Whether you're a beginner looking to improve your skills or an intermediate player striving to tackle harder levels, this section is designed to provide you with valuable tips, tricks, and strategies to elevate your gameplay.
Master the Fundamentals
Understand the Game Modes: Geometry Dash features various game modes, including cube, ship, ball, wave, and more. Familiarize yourself with these modes to know what to expect in different levels.
Practice the Basics: Begin by playing the game's main levels to develop a strong foundation. These levels are designed to introduce you to different game mechanics gradually.
Experiment with Control Methods: Geometry Dash can be played with a mouse, keyboard, or mobile touch controls. Find the control method that suits you best and practice with it consistently.
Use Practice Mode: Take advantage of Practice Mode to focus on specific sections of a level. This allows you to perfect challenging parts without having to replay the entire level.
Study the Level: Pay close attention to the level's design, obstacles, and patterns. Understanding the layout is crucial for successfully navigating through difficult sections.
Click Patterns and Consistency
Find Your Click Pattern: Experiment with various click patterns, especially in challenging game modes like ship or wave. Discover what works best for you, as there is often more than one viable approach.
Consistency Is Key: Practice consistently from specific checkpoints or sections. Mastering the end of a level is just as important as the beginning since you'll spend less time there during normal mode.
Watch Expert Gameplay: Watch YouTube videos of skilled players completing levels. Analyze their click patterns and strategies to learn new techniques.
Set Timer Goals: During practice sessions, set timers for 30-45 minutes on specific parts of a level. This helps you focus on mastering those sections without procrastinating.
Game Modes and Skill Improvement
Identify Strengths and Weaknesses: Assess which game modes you excel at and which ones you struggle with. Focus on improving your weaker areas to become a well-rounded player.
Utilize the GDDP: The Geometry Dash Demon Pack (GDDP) is a valuable resource. It provides lists of levels categorized by skill and game mode, helping you find levels to target your weaknesses.
Set Goals: Create a roadmap of goals. Start with smaller milestones, such as beating easier demons, and gradually work your way up to more challenging levels.
Challenge Yourself: Don't shy away from difficult levels. Push your limits and tackle levels that seem impossible at first. Breaking through mental barriers is part of the journey.
Building Skills and Mental Endurance
Clear Map Packs: Clearing out map packs in order of difficulty helps build your skills and mental endurance. It's an excellent way to practice different challenges.
Practice Patience: Geometry Dash can be frustrating at times, but developing patience is essential. Stay persistent and keep trying until you succeed.
Enjoy the Process: Don't forget to have fun. While improvement is the goal, enjoying the game is equally important. Geometry Dash is an incredible experience when you embrace the enjoyment of the journey.
Specific Tips and Challenges
Straight Fly Challenges: If you struggle with straight flying, look for challenges that focus on this skill. These challenges often use a clear, default background, making it easier to practice.
Muscle Memory for Clicking: Work on muscle memory for precise clicking. If you tend to click too early, practice holding the button slightly longer, and vice versa.
Experiment with Control: Try different control methods and see what feels most comfortable for you. Some players prefer the mouse, while others favor the keyboard or touch controls.
Watch for Visual Tricks: In some levels, visual effects can make gameplay more challenging. Practice recognizing patterns and overcoming visual distractions.