Golf Battle is a multiplayer online game where players compete in mini golf challenges. The game is a fun and fast-paced. It combines the strategy of golf with the excitement of a multiplayer competition.
You have many options – choose from variety of clubs and balls but your aim is to get the ball in the hole in as few shots as possible. The most popular game modes are 1v1, 2v2 and 6 player tournaments. There are power-ups, special abilities and challenging obstacles which can give you advantage to your opponents. Golf Battle can be played on mobile devices with your friends or against players from the whole Globe.
Game features customizations which provide you with unique designs, avatars, golf balls and special effects. These items can be bought with real money or with in-game currency. Different resources can be used to boost the performances of your player, too. Multiplayer mode is great but keep in mind that it requires strong internet connection. It also has a practice mode – use it as frequently as you can because it will help you to improve your skills while playing against computer – controlled opponents.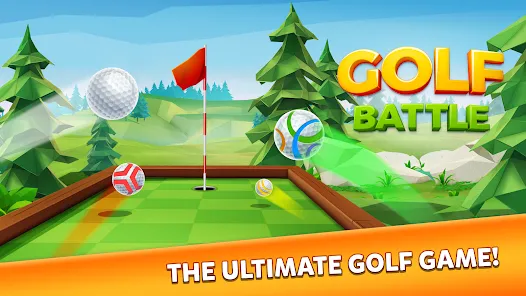 Daily Challenges
Daily challenges are very important part of every game because they keep it interesting and they are funny way of earning some extra rewards. The usual concept involves completing certain tasks or achieving certain score during the match. Golf Battle offers variety of daily challenges, and here are some of them:
Hitting a certain number of shots in a row without missing
Earning a certain score on a particular golf course
Winning a certain number of matches against other players
Collecting power-ups or hitting targets in a certain amount of time.
Completing these challenges can earn players coins, gems, and other in-game rewards that can be
used to unlock new golf courses, golf balls, and other customization options.
Our Personal Opinion
I've never been much of a mobile gamer, but I'll admit to finding the games on my phone extremely addictive. My favorite is Golf Battle which was released by Staz Nairi with the sole purpose of being simple and competitive. Golf Battle is a surprising and worthwhile mobile game. With the amount of content being offered, it's not uncommon to find people giving it a chance on their consoles or PC gaming counterparts.
I have some complaints about the controls – they just don't work the way they should on mobile games. Mobile touch screens are great but when it comes to playing games you really need real, tangible buttons in a more satisfying playing experience. There aren't any game-breaking glitches, and you can maintain the perfect swing without having to figure out how to get around clumsy buttons on a mobile device.
In this game you will challenge real players from around the world and make it to the top! Gather your friends and play 1v1 or with up to 6 Facebook friends all together. Show off your amazing trick shots in the Lucky Shot Challenge and win great prizes. Experience huge slides, big jumps, crazy loopings, cold ice tubes, wild rivers and other obstacles. Play up to 6 people on a course with many multiplayer features.
Collect and upgrade clubs and custom balls. Show off your amazing trick shots in the Lucky Shot Challenge for prizes. Golf in the desert? This is like actually golfing in the Rocky Mountains. You might get lost otherwise – sand pits and other moving objects are risks you don't want to take. The Windy Cliffs are a must. Full of gushing springs, beautiful levels, and plenty of wind to try out your golf swing. Testing your skills on both the golf course and with mother nature!
Check this out! It's super easy! This innovative and unique Golf Battle hack can be used whenever you want to add insane amounts of free coins and gems to your gameplay. Make sure to secure yourself with enough so that way you could start playing on your own terms and just the way you always wanted.
These new Golf Battle cheats are available for all iOS and Android devices so grab your phone and get to work. Don't forget to share it with friends and that way notify everyone that there is a great process where everyone can gather unlimited resources at any time.
The way you want to manage this process is by clicking on the button below for redirection to GoCheat injector! After you do that, insert the name of the game in our search bar and look for it so you could get your resources. Never again spend money on perks since using this new method you can get unlimited numbers instantly. Save your time and pick those coins and gems today! Watch our video tutorial for more information and ask us anything you want via comments.
Also, instead of using Golf Battle gems generator you can download modded version of the game and you will have unlimited money all the time! That sounds amazing and worth trying, isn't it? Have fun and enjoy!
or Download Modded Version Below!