Embark on an enthralling journey through the glittering, cutthroat world of Hollywood Story, a mobile game that challenges players to carve out their path to fame. In this game, amassing a legion of fans is not just a measure of success but the very essence of your virtual celebrity existence. This comprehensive guide delves into the nuanced strategies that can catapult you from a budding actor to an A-list superstar.
From understanding the core gameplay mechanics to maximizing interactions, each section of this guide is meticulously crafted to elevate your Hollywood Story experience. Whether it's managing resources, excelling in mini-games, or networking with the elite, every aspect is geared towards boosting your fanbase and securing your spot in the limelight of this virtual Hollywood.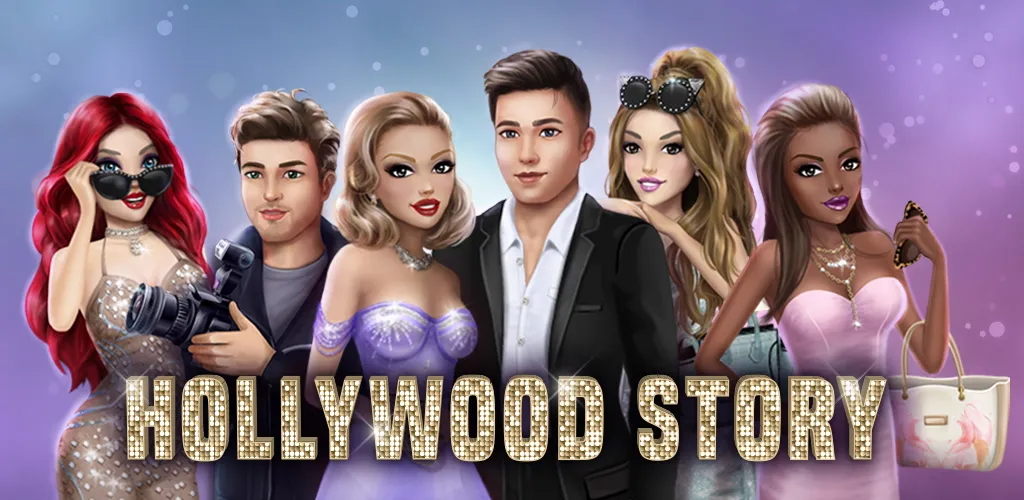 1. Follow the Quest Line
Understanding the Quest System
In Hollywood Story, quests are more than just tasks; they're opportunities to advance your career and gain fans. Completing quests rewards you with cash, XP points, and, crucially, enhances your fame. These quests often involve enhancing your wardrobe, upgrading living arrangements, and personal makeovers. Each activity not only moves the storyline forward but also contributes to your stardom, making quest completion a priority​.
XP and Leveling Up
Gaining XP is essential for leveling up and unlocking new star statuses. Engage in various activities – from tapping benches in Harlem to assisting friends like Amber. These actions yield XP and cash, crucial for your journey to the top​.
2. Engage Actively with the Environment
Importance of Interaction
Your environment in Hollywood Story is rich and interactive. From Harlem to Las Vegas, tapping on elements like mailboxes and trash cans yields items and XP. Collecting these "junk" items, like lipsticks or laptops, is vital for getting and passing auditions, a key to increasing your fame.
Energy Management
Remember, interactions cost Energy points. Balancing your energy expenditure between auditions and junk-collecting trips is crucial. Efficiently managing these trips can speed up quest completion and fan accumulation​.
3. Balancing Filming and Skill Improvement
The Role of Energy in Filming
Filming movies in Hollywood Story is an Energy-intensive activity. Each movie is divided into chapters, each requiring Energy to complete. The key is to focus your Energy on the set without distraction. Remember, filming directly correlates to fan acquisition​.
Skill Improvement
Improving your skills is another way to gain more auditions and expand your movie portfolio. This too requires Energy, so it's crucial to balance skill improvement with filming and other activities​.
4. Wise Use of Resources
Diamond Management
Diamonds are scarce in Hollywood Story. While tempting, spending Diamonds on clothing should be a calculated decision. Look out for sales and reserve Diamonds for essential quest completions. This strategic approach will ensure a steady growth in fame without depleting your resources. Learn how to never run out of Diamonds in our detailed guide.
5. Playing Mini-Games
Unlocking Goodies
Mini-games are an excellent way to unlock goodies, including Diamonds. Engage in fan gifts, fashion arenas, and lucky slots to maximize your gains. These games require strategic investment but can significantly aid in your rise to fame​.
6. Networking with Other Stars
Community Interaction
Visiting other stars' homes can result in receiving gifts, albeit occasionally. These interactions, while not always fruitful, can sometimes provide hard-to-find items, contributing to your quest completion and fan growth​.
7. Home Decoration (Optional)
A Luxury Endeavor
Once you're comfortable with your Diamond reserves, consider decorating your home. Although this doesn't directly contribute to fan growth, it adds to the overall enjoyment of the game. Be cautious, as this can be a significant Diamond expense​.
Additional Fan-Gaining Strategies
Diverse Activities for Fan Growth
The Hollywood Story Help Center suggests several activities for gaining more fans:
Shooting new movies and organizing premieres.

Dressing fashionably and going out.

Attending photo shoots at the PR agency.

Interacting with fans on the streets.

Buying designer clothes.

Making TV shows.

Giving interviews post-movies.

Organizing parties in the Vegas Suite​​.
These activities not only enhance your in-game experience but also directly contribute to your growing fanbase. Balancing these strategies will not only increase your fan count but will also enhance your overall experience in Hollywood Story. Remember, the path to stardom is a mix of hard work, strategic planning, and a bit of Hollywood glamour. Happy gaming!