Brace yourselves, Monopoly GO enthusiasts! The most-awaited event of the season, the Epic Myths Album Event, has just dropped, and it's bigger, better, and more mythical than ever before! Spanning an ambitious three months, starting from September 1st until the grand finale at the end of November 2023, this event promises not just a game but an enthralling journey through captivating mythological realms.
Imagine diving deep into age-old tales, encountering legendary figures, and battling the odds to collect coveted stickers. With every roll of the dice, you're not just moving a piece on a board; you're stepping into an epic saga, where myths come alive and rewards are legendary.
This isn't just another Monopoly GO event – it's a grand odyssey. Whether you're a seasoned player or a newcomer, the redesigned album system beckons with challenges and surprises. From the mysterious Gold Stickers to the game-changing rewards, every aspect of the event is designed to ensure an adrenaline-pumping experience.
So, gear up for an immersive adventure, rally your friends, strategize your moves, and embark on what promises to be the most legendary journey Monopoly GO has ever offered. The Epic Myths await your conquest. Are you ready to make history?
Understanding the Epic Myths Album
There are a staggering 189 stickers to collect within this period, spread across 21 unique sets, with each set comprising 9 stickers. A key change that players should note is the reduction in Dice rewards upon completing each set. Each of these sets is highlighted by a Gold Sticker, with a total of 21 Gold Stickers to be collected, a reduction from the previous Wildlife Tales Album's 24.

New Sticker Packs and Gold Stickers
The event has also introduced new sticker packs which may initially confuse some players. These packs differ in type and corresponding rewards. In the Epic Myths Album, each set proudly features 1 Gold Sticker. Here's the complete Gold Sticker list:
Set 1: Adventures of Thor – Norse Adventure (1 Star)
Set 2: The Argonauts – Bronze Giant (1 Star)
Set 3: Bake-Danuki – Trickster! (1 Star)
Set 4: Romulus and Remus – The Eternal City (1 Star)
Set 5: Robin Hood – Wedding Bells (1 Star)
Set 6: Trojan Horse – Surprice! (2 Star)
Set 7: String of Fate – Forever Bond (2 Star)
Set 8: Ulysses' Travels – Homecoming (2 Star)
Set 9: Pied Piper – Micest Home (2 Star)
Set 10: EL Dorado – Happy Trading (3 Star)
Set 11: The Great Race – Chinese Zodiac – (3 Star)
Set 12: The Lost City – Dive In! (3 Star)
Set 13: King Arthur – Camelot (3 Star)
Set 14: Paul Bunyan – Rock On! (4 Star)
Set 15: Nessie – Happiness (4 Star)
Set 16: Bermuda Triangle – Big Booty (4 Star)
Set 17: Lizard Man – Mount Ularu (4 Star)
Set 18: Midas Touch – Frustration (5 Star)
Set 19: Sasquatch – Good Memories (5 Star)
Set 20: Acalica – Discovery (5 Star)
Set 21: Hua Mulan – Great Honor (5 Star)
The Rewards on Offer
The rewards for completing the Epic Myths Album are truly a game-changer. By completing the album, players stand a chance to receive a whopping 15,000 dice and a substantial amount of in-game currency. But that's not all! Completing the album also guarantees players the much-coveted Hammer Token, the event's main attraction. For those aiming higher, there's the golden version of the Hammer Token which can be acquired by completing the album a second time.
The rewards you are going to get when you finish one album are also great and very helpful for further progression. For example, once you collect all stickers in Bake – Danuki set, you will get 4.780.000 and 160 dice.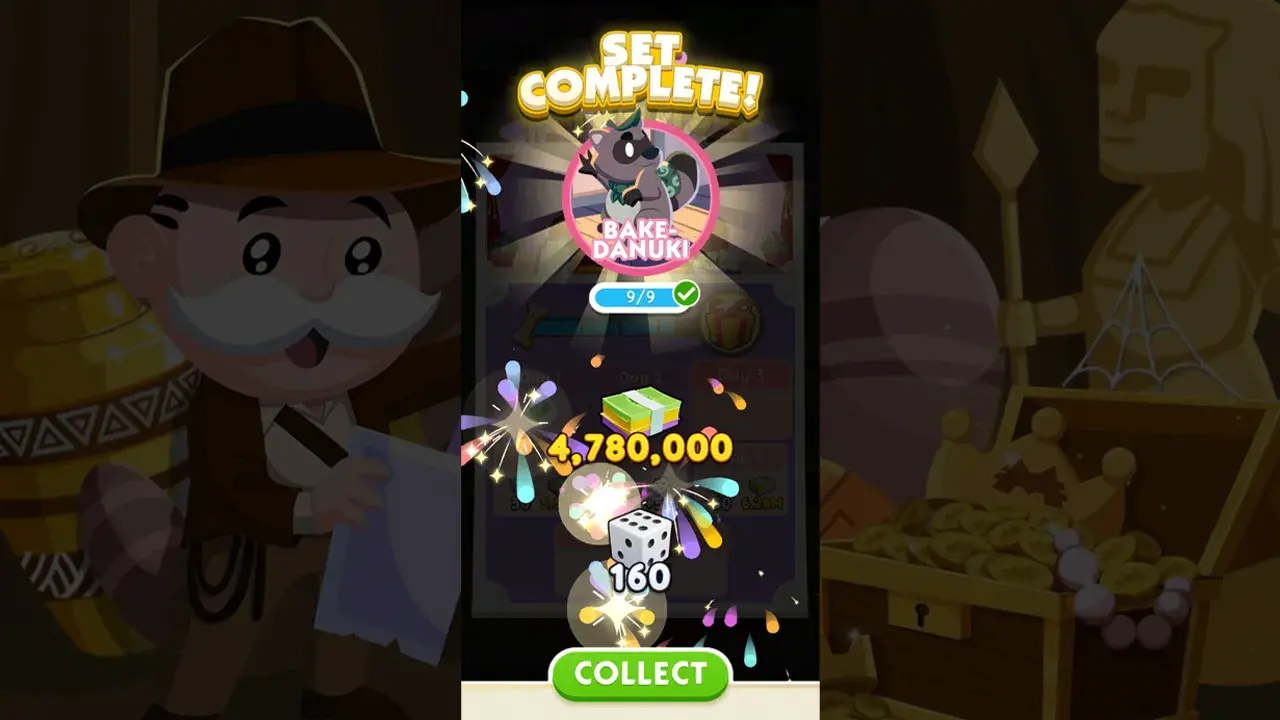 Finishing String of Fate will bring you 6.480.000 and 250 rolls.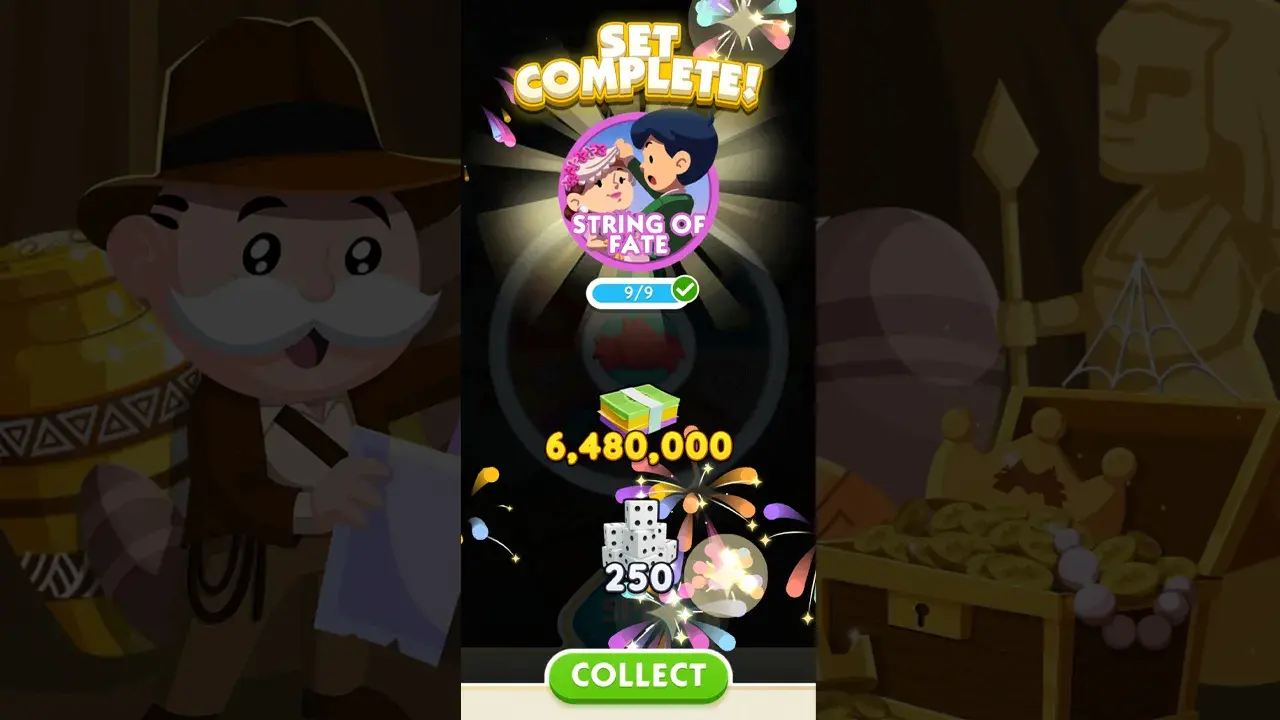 Trojan Horse and Romulus and Remus will reward you with 5.770.000/225 rolls and 5.730.000/170 rolls respectively.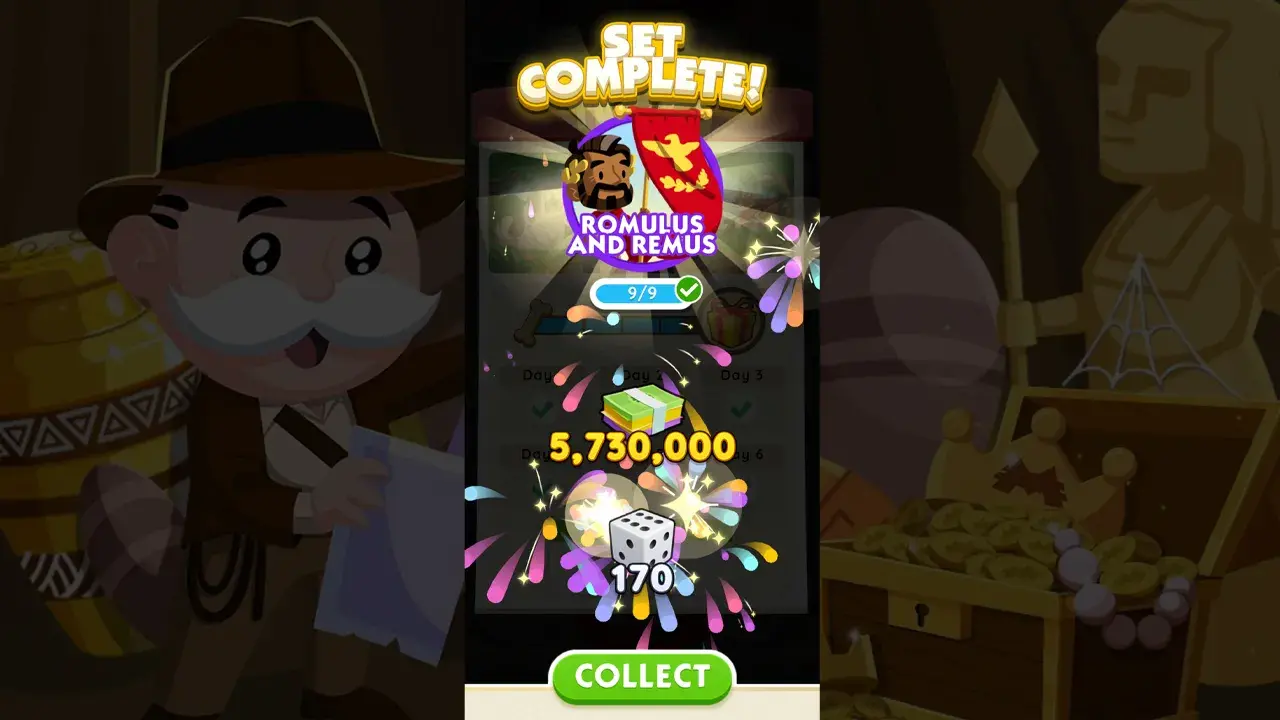 Adventurues of Thor will reward you with 5.880.000 and 130 rolls.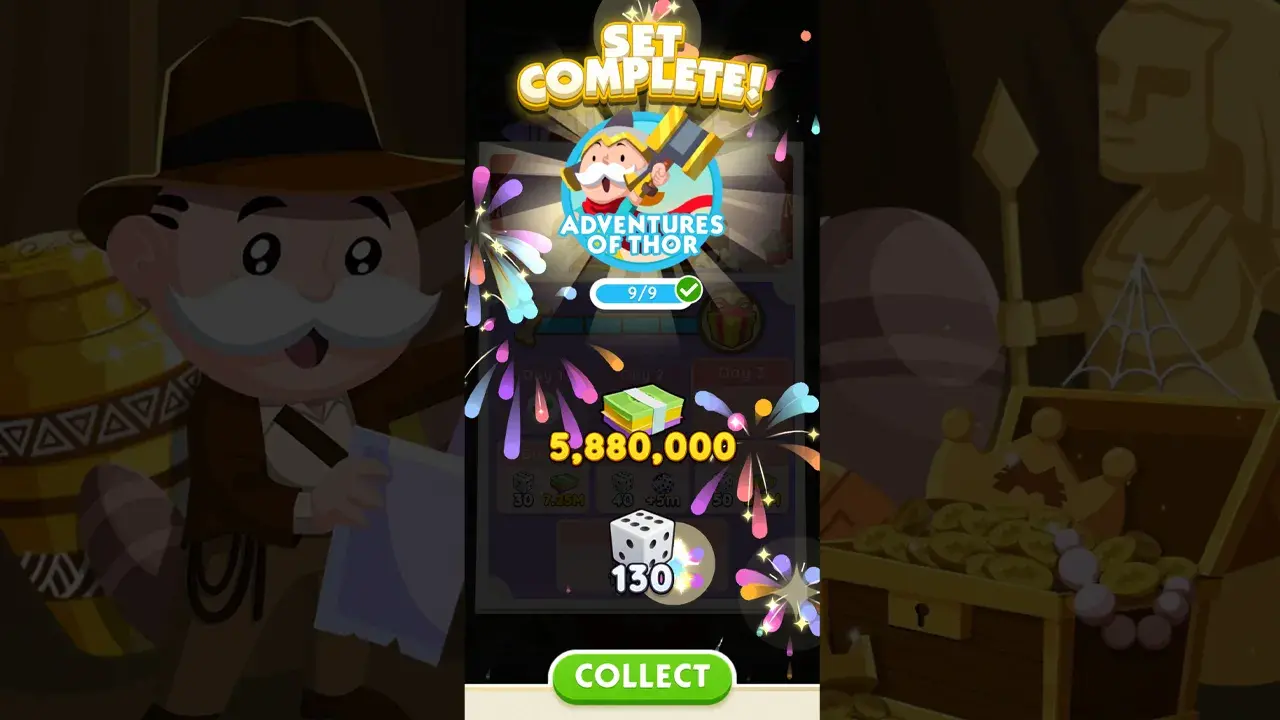 If you finish Pied Piper set of stickers, you will be much richer – you will earn 12.900.000 and get 300 rolls. It is very generous reward, isn't it?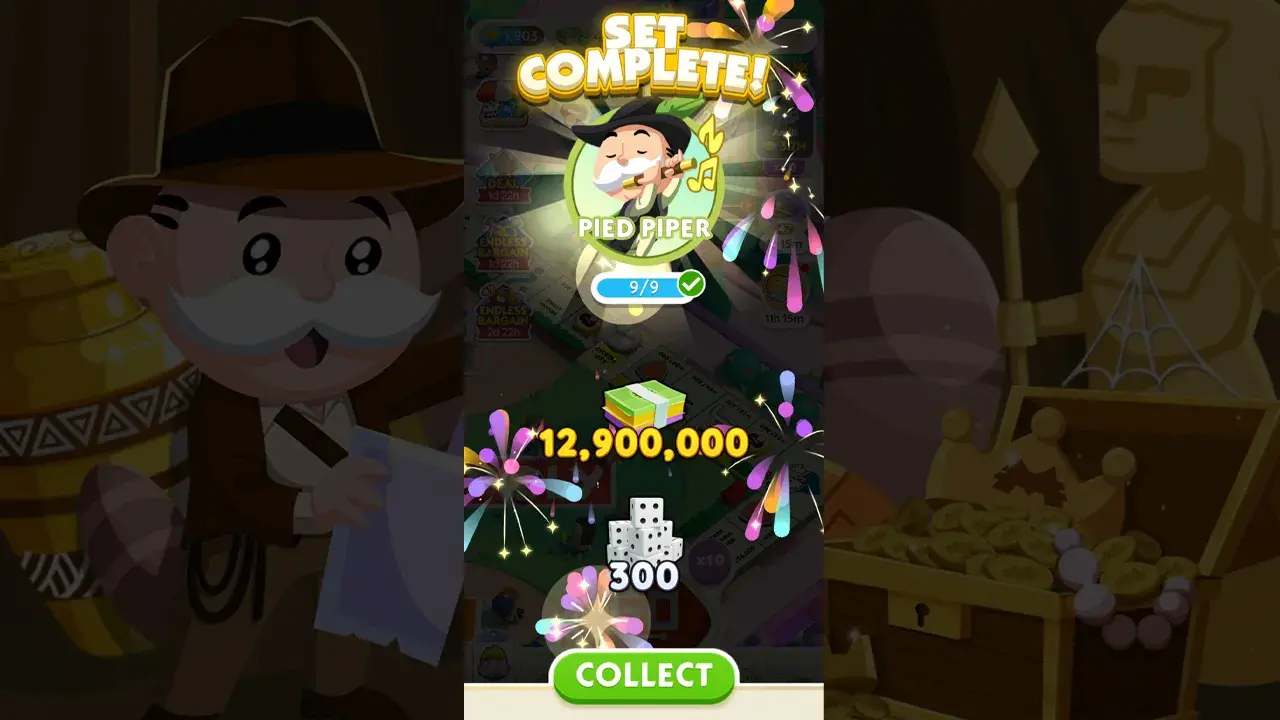 Here is the complete list of rewards for every set:
Set No.
Set Name
Rewards
1/21
Adventures of Thor
130 Dice & Money
2/21
The Argonauts
145 Dice & Money
3/21
Bake-Danuki
160 Dice & Money
4/21
Romulus and Remus
170 Dice & Money
5/21
Robin Hood
185 Dice & Money
6/21
Trojan Horse
225 Dice & Money
7/21
String of Fate
250 Dice & Money
8/21
Ulysses' Travels
275 Dice & Money
9/21
Pied Piper
300 Dice & Money
10/21
EL Dorado
325 Dice & Money
11/21
The Great Race
350 Dice & Money
12/21
The Lost City
400 Dice & Money
13/21
King Arthur
400 Dice, Money
& Cyclops Token
14/21
Paul Bunyan
500 Dice & Money
15/21
Nessie
550 Dice & Money
16/21
Bermuda Triangle
675 Dice & Money
17/21
Lizard Man
900 Dice & Money
18/21
Midas Touch
1K Dice & Money
19/21
Sasquatch
1.1K Dice & Money
20/21
Acalica
1.4K Dice & Money
21/21
Hua Mulan
1.8K Dice & Money
Final Reward
15K Dice, Money
& Hammer Token
Trading Gold Stickers: What's the Deal?
Currently, trading Gold Stickers isn't possible. However, there's buzzing anticipation for an upcoming event named Golden Blitz, expected in the updates 1.11 and 1.12. This event may potentially allow players to trade up to 2 Golden Stickers. If that's possible, we can only imagine how generous rewards are going to be. What do you think? Can you make any predictions?
Strategies for Epic Myths Completion
To complete the entire Epic Myths album, players need a lot of patience and a good strategy. Of course, plenty of time to devote to the game is crucial. It's paramount to amass thousands of dice for successful completion. To enhance your chances:
Prioritize acquiring daily dice rewards
Seek victories in tournaments
Leverage net worth milestones
Regularly complete sticker collections
For acquiring the 4 and 5 star stickers, focus on trading and gifting among players, ensuring to verify the reputation of players you interact with to avoid scams. Gold Stickers, however, can't be traded, as we mentioned before. The best strategy for these elusive stickers is aiming for purple sticker packs whenever possible.
What to do with Duplicate Stickers?
During the gameplay, you will collect a bunch of stickers you already have – the duplicates. Unfortunately, you will receive them more often than the new ones. The good news is that they can be traded for one of the three possible vaults – green, blue and pink.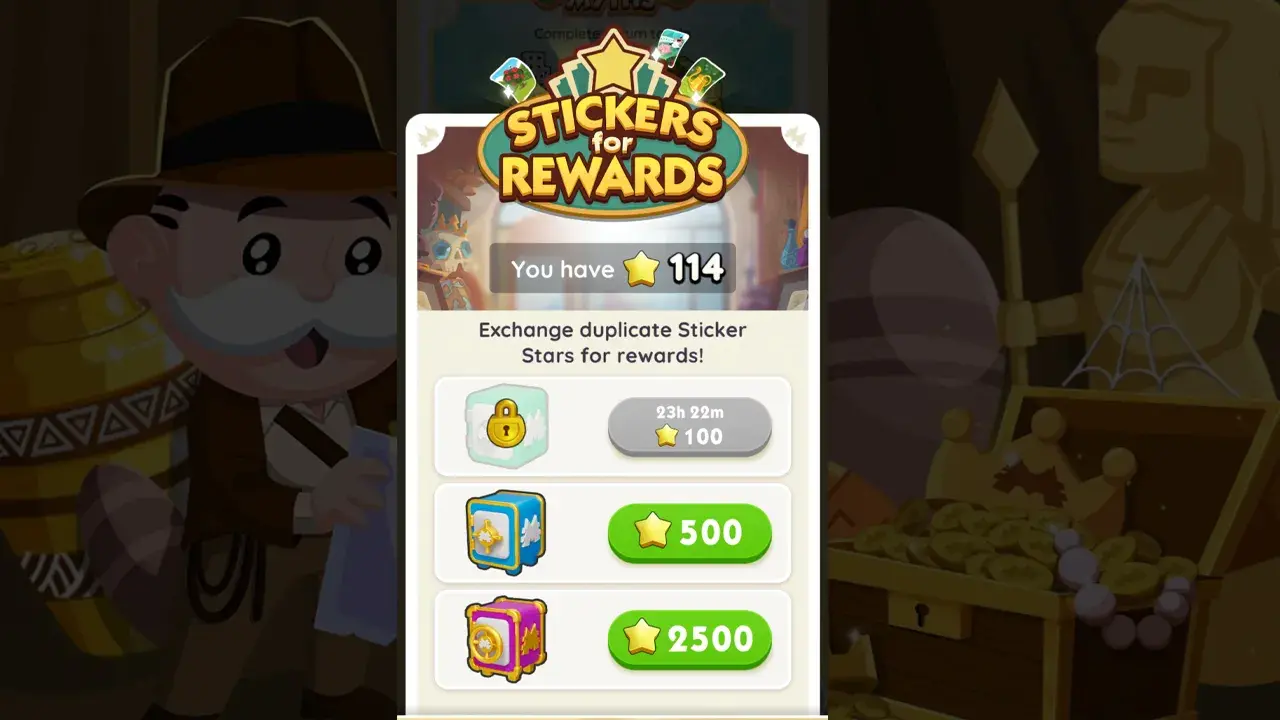 To open up green one, you will need 100 stars and the blue one requires 500. You can unlock these vaults only once within 24 hours.
Previously accessible at a mere 1,500 Stars, the pink vault's price has undergone a significant hike, now standing at a steeper 2,500 stars. While this may initially strike players as a bold move, there's more than meets the eye.
What truly sets the revamped pink vault apart is its enhanced value proposition. Unlike before, where the outcome could be a hit or miss, the new pink vault comes with a compelling guarantee: a missing sticker pack. This ensures that players no longer face the disappointment of receiving duplicates but are instead presented with a sure-shot opportunity to fill those elusive gaps in their collections.
So, while the investment may be higher, the returns are far more promising. Think of it as a direct ticket to your missing pieces, reducing the randomness and boosting your chances of album completion.
Dice Requirements and Final Thoughts
A rough estimate suggests that players might need over 100,000 dice (and a bit of luck!) to successfully complete Epic Myths. The dice acquisition will heavily rely on luck, gameplay, and the ability to find suitable trading partners. If you don't want to relay on luck and other players, you can have a go at our Monopoly GO hack which will help you achieve the best results in almost no time!
In summary, the Epic Myths in Monopoly GO promises an exhilarating experience for players. With a dash of luck, ample dice, and the right strategies, you can conquer this event. Don't forget to engage in the plethora of events and tournaments throughout the season for a comprehensive Monopoly GO experience. Good luck, and may the dice roll in your favor!