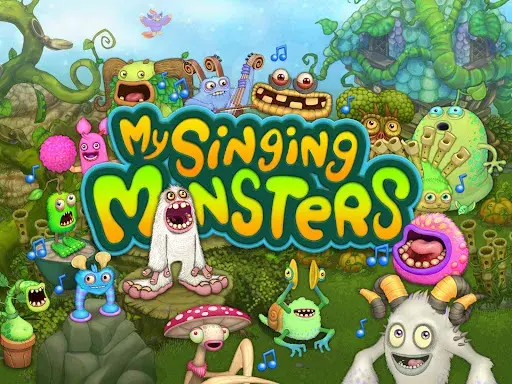 Welcome to My Singing Monsters! Play with them, feed them, and listen to their singing!
Raise a pet, then feed them to make them follow musical notes and grow. Some characters are free so you can start developing your favorite for your family!
Create a world full of Singing Monsters, improve their happiness as you upgrade & breed them, and then share your monster with friends. You can build unique decorations to make everything just the way you want.
You'll love exploring the wonderful fantasy land of Monster World!
In today's post we will talk about breeding different monsters so you can apply the info to your game.
Let's start!
How to Breed In My Singing Monsters?
Breeding is a central part of My Singing Monsters and is used to obtain almost all of the game's monsters, unlocked at level 7.
When you breed two Monsters of different species that are at least level 4 in the Breeding Structure, it is preferable to do so with no particular order.
If you had taken a new Monster and added elements to it, the result would consist of all the groups, unless you put elements back in. The result will be one of its parents.
A good example of this is with Drumpler and Mammott. Though the names are correct, these combinations will not result in new Monsters because the Cold element is repeated. For instance, a Natural double element Monster cannot be created out of this combination.
Some rare monsters like Ethereals, Shugabush, Mythicals and Seasonals aren't determined by their monster classification or element combinations. In order to breed these potent units you need two such Monsters that are the same species.

Increase Odds
It is not uncommon for breeding Monsters to fail, but there are ways to increase your odds of success. Many Creatures available to breed can be combined in the knowledgable way that is necessary for spawning a rare variation.
By using Lighting Wishing Torches in your breeding attempts, you will increase the odds of it being successful. The level of parent Monster increases how likely the attempt is to succeed, up to a maximum increase of Level 15.
A great way to minimize time is to use a combination that will take the least amount of time. Breeders typically work on the same pet for a long time before taking a break, so by doing this, you can try again sooner.
Making Entbrat with Monster, Splash, or Spire is a good idea when breeding Ghazt on Plant Island. Entbrat + T-Rox can create a T-Rox that takes 8 hours while Entbrat + Pummel, Bowgart, or Clamble all produce triple-elemental monsters which take the same amount of time.
Combinations
Double Element Monsters
Combining two 'Single monsters' always results in a 'Natural double', which have a 100% success rate. The parents of such doubles cannot result in a natural double as one of them would have to be 'One-in-a-kind'.
Double-element monsters can result in some really awesome Monsters. They're hard to breed and often result in a failed attempt. Ethereals are harder to find, though, so they might fail as well
Triple Element Monsters
Triples are slightly harder to breed, and typically require two Monster. For example, Quibble and Mammott must be bred together in order to create Congle. Breeding combinations for triple element Monsters often result in one, but cannot be guaranteed.
Quad Element Monsters
A Quad is even harder to breed than other types of Monsters since it has four elements. Breeding a Fire or Magical Quad with a Single Monster is much more successful than birthing a Single Monster with trio elements.
Rare Monsters
Rare Monsters are limited-released versions of existing monsters that are harder to find. They can only be obtained for a limited time and are sure to interest players eagerly searching for new loot!
Their common counterpart have a specific characteristic: they have only one trait. However, those with the rare singles trait can breed 2x the traits into one.
For example, Bowgart and Pummel might result in either Rare Potbelly or Toe Jammer, since they share the Plant and Water elements.
Once you have the common and rare variants of a Monster, you can breed them together to get a 100% chance of getting that Monster.

Epic Monsters
The Epic Monsters are special variants that are even harder to get than the Rare Monsters. They're only available for limited times, too!
Each Epic Monster has its own unique breeding combinations, whereas Rare and Common monsters use the same combinations. The patterns set by the monsters follow a logical pattern on certain Islands, not all.
Seasonal Monsters
As part of ever-changing game, they provide some seasonal Monsters that can only be obtained during certain time periods of the year. These include special Monster events such as our Out-of-Season event, or here and there throughout the year.
Each seasonal has a unique combination of patterns that are used across all Islands, except in the case of Seasonal Shanty. It also has a high chance of failure.
Ethereals
Ethereals are special monsters which are always available for breeding.
Each Natural Island is made up of a single element, which can be interbred with others. These elemental breeding combinations have a 1% chance of success, but from time to time they will award you with an Ethereal Breeding Bonanza weekend promotion that provides you with more chances at obtaining this vital resource.
Shugafam
The Shugabush is a special Monster that can only be bred on Plant Island. It has a rare combination of traits and can be bred with other Monsters, like Bowgart or Clamble.
On Shugabush Island, they have natural monsters that are allowed to breed with them. The other members of the Shugafam must be teleported to get there.
Mythicals
Mythical Monsters are another class of Monsters that have a low success rate, and more are planned to be released on the 'Natural' & 'Fire' Islands.
G'joob is bred with T-Rox and Pummel. Strombonin is bred with Bowgart and Spunge. Yawstrich is also bred with T-Rox and Scups.
On Mythical Island, new types of Mythicals evolved called the Natural and Fire Mythicals. The former gained the ability to breed with other types of Mythical to create hybrid creatures called Dreamythicals.

Non-Breedable Monsters
The Monsters you can only breed are ones from Amber Island, Wublins (a new character), and your custom-made Monsters. Some Monsters cannot be bred and must be purchased from the market instead. These include: Werdos, Dipsters, and all of the other variants of Wubbox. Celestials are only purchasable in a set of five at once.
Hacks For My Singing Monsters
You can pick up My Singing Monsters Hack tool on our site!
You will be using our generator which will get you Free Diamonds and Coins in a matter of minutes!
It really is a superb tool and most importantly legit, fast and safe.
Enjoy!