Hello, fellow gamers! I'm Daniel Dupree, the passionate gamer and blogger from LevelBash, here to guide you through the whimsical world of My Singing Monsters. In this guide, we'll delve into the crucial aspects of managing two key resources: diamonds and coins. For many players, the shortage of these resources can be a hurdle, but I'm here to show you how to overcome this challenge. Whether it's through smart management techniques or the innovative use of cheats, this guide will elevate your gameplay, helping you progress faster and enjoy the game to its fullest.
Smart Ways to Manage Diamonds and Coins
Diamonds are your premium currency. In My Singing Monsters, diamonds are essential for a range of activities from speeding up time-dependent processes to purchasing rare monsters. However, using them wisely is key. Spend your diamonds on practical upgrades like mines, breeding structures, and castle upgrades. It's generally not advisable to use diamonds for speeding up monster processes or buying special monsters outright​​​​.
Coins are the backbone of your economy. They are crucial for purchasing islands, structures, and especially for baking, which multiplies your monsters' coin income. Prioritize spending coins on food and leveling up monsters evenly. Higher-level monsters can produce bonus items, including diamonds, adding to your resources. Remember, collecting from monsters is your primary way to earn coins, so focus on having a mix of different elemental monsters to optimize coin production​​.
How to Collect Diamonds and Coins?
Diamonds are a treasure to earn. Earning them can be achieved through various methods:
Mini-Mines:

These structures provide one diamond every 24 hours and are available for purchase on most islands. They are a must-have for a steady diamond income​​.

Maximum Mines:

Offering two diamonds every 12 hours, these are available on select islands and provide an even better diamond yield​​.

Wublin Island:

This is a reliable source for diamonds. Wublins, including the Wubbox, have a chance of producing diamonds, making them a valuable asset​​.

Other Methods:

Completing certain goals, leveling up monsters, and participating in games like the Memory Game and Wheel Spin can also earn you diamonds, though these methods are less consistent​​​​​​​​​​​​.
Accumulating coins is crucial for your game's development. Here are effective ways to collect coins:
Monster Collection:

The primary source of coins is from your monsters. Ensure you have a variety of monsters, especially those with multiple elements, for optimal coin production​​​​.

Feeding and Leveling Up Monsters:

Feeding monsters to higher levels increases their coin production rate and coin max. This is vital for maximizing your coin income​​.

Wublin Island:

Just like diamonds, Wublins can also generate coins among other resources, adding to your coin stash​​.

Strategic Spending and Baking:

Invest your coins wisely in baking treats, upgrading your monsters, and purchasing critical structures. Baking is especially important as it multiplies your monsters' coin income​​​​.
By focusing on these methods, you can ensure a steady flow of coins, aiding in your game's progression and enabling more opportunities for growth and development.
How to Get Free Diamonds and Coins with My Singing Monster Cheats?
Transform your gameplay with cheats. Imagine skyrocketing your diamond and coin stash without spending a dime! The following cheat offers an instant boost to your diamond resources, transforming your gameplay experience and progression in the game.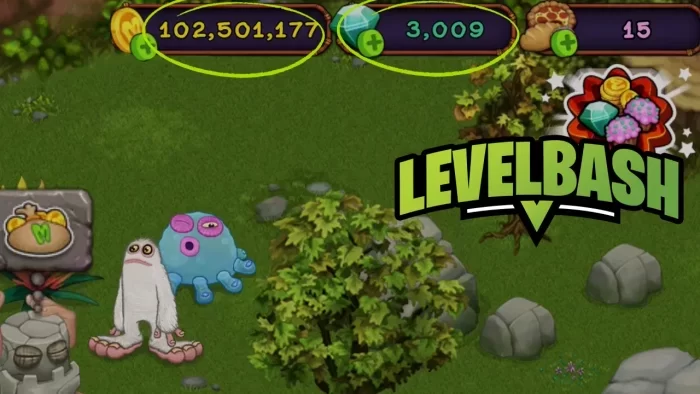 Here are the step-by-step instructions for getting free diamonds and coins:
Tap the "

Get 3K Diamonds & 100M Coins

" button.

Finish promotional offers from our sponsors for 24h access to

GoCheat Premium Boosters

.

Search for Outlets Rush game on GoCheat.

Enter your in-game ID/Username.

Tap on the "

Let's Go

" button.

When done, reopen the game and wait for diamonds and coins to start loading.
How to Use Diamonds and Coins in The Game?
Using diamonds wisely in My Singing Monsters is essential to maximize their impact. Here's how you can best use diamonds:
Investing in Mines:

Mines are a vital investment for a constant diamond supply. Mini-mines and maximum mines offer a steady stream of diamonds, crucial for long-term gameplay​​.

Purchasing Additional Breeding and Nursery Structures:

Extra breeding structures increase your chances of breeding rare monsters, while additional nurseries allow for more simultaneous monster hatching. Both are key for expanding your monster collection and improving game progression​​.

Upgrading Your Castle and Breeding Structures:

Upgrading your castle enables you to house more monsters, thereby increasing your income potential. Improved breeding structures increase the breeding speed, allowing you to grow your monster collection faster​​.

Acquiring Mirror Islands and Nurseries:

Mirror islands offer additional space and resources, enhancing your capacity to earn more. Purchasing these, especially during sales, is a strategic use of diamonds​​.

Avoiding Wasteful Expenditures:

Refrain from using diamonds to speed up breeding processes or to buy monsters directly. These actions can be a significant waste of this precious resource. Instead, focus on investments that offer long-term benefits​​​​.
Coins are the backbone of your economy in the game, and managing them effectively is crucial:
Baking Treats:

Baking is a key activity for boosting monster levels and, consequently, their income. Regularly invest coins in baking to ensure your monsters are at optimal levels for maximum coin production​​​​.

Investing in Quad-Element Monsters:

Quad-element monsters are efficient coin producers due to their high maximum coin capacity and production rate. Focusing on these monsters can significantly enhance your coin earnings​​​​.

Avoiding Early Purchases of the Wubbox:

The Wubbox is an expensive investment with a low coin production rate, making it an inefficient early-game purchase. Delay buying the Wubbox until you can quickly recover its cost​​.

Regular Monster Collection:

Regularly collecting coins from your monsters is vital. Ensure a consistent collection schedule to maximize coin income, keeping in mind that different monsters have varying coin collection rates and capacities​​​​.

Strategic Spending:

Allocate coins wisely. Prioritize spending on food production and monster leveling over unnecessary decorations or low-return investments. Efficient spending will lead to faster progression and more robust monster collection​​.
By strategically using diamonds and effectively managing coins, you can optimize your gameplay, enhance your monster collection, and progress more rapidly. Remember, the key to success lies in smart resource management and making informed decisions.
Mastering the management of diamonds and coins in My Singing Monsters can significantly enhance your gaming experience. By earning these resources strategically and spending them wisely, you can accelerate your game's progress and enjoy a more fulfilling gameplay. Remember, whether you're collecting diamonds and coins through in-game activities or using cheats, the key is to use these resources effectively to unlock the full potential of your monster paradise. Happy gaming!