Step into the shadowy realms of The Grand Mafia, where power is the currency and strategy is your lifeline. In this immersive world, players are thrown into the deep end of mafia politics, turf wars, and the relentless pursuit of dominance. Every decision you make, every alliance you forge, and every battle you engage in, echoes in the dark corridors of this thrilling underworld. As you navigate the treacherous waters of mafia wars, you'll realize that it takes more than just firepower to climb the ranks. Wit, diplomacy, and timely decisions play a crucial role in your journey to the top.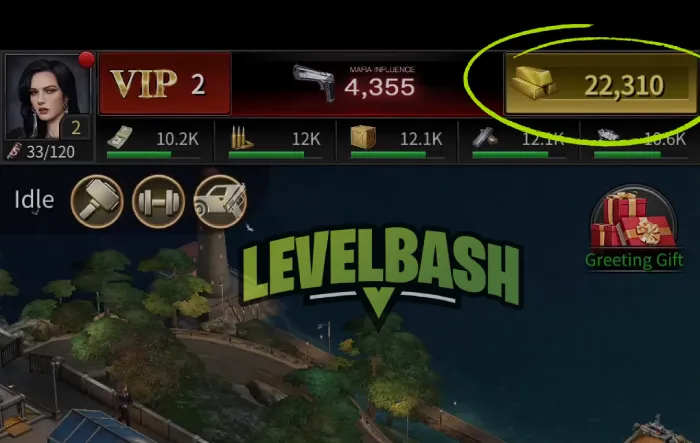 Now, as a special treat for our dedicated players, we're excited to make your ascent a tad bit smoother. Whether you're a seasoned don or a rookie trying to make a name for yourself, we've got something that will spark your interest – cheat codes for free gold! That's right, in addition to the thrill and challenges the game offers, we're gifting you golden opportunities to strengthen your empire.
The Grand Mafia Active Codes List
23October16 – expires on October 23rd, 2023.
PlayTGMPC – Gift code for PC version
TGMPC888 – PC-Exclusive Version, added on June 13th, 2023
tgmsoup – November 13th, 2022.
tgmkr777 : July 25th, 2022.
Tgm888 – Redeem this code and get 300 gold, X10 Family Building Material Redemption COupon, X1-Hour Speed Up, X1 Hour Training Speed Up, and X100 VIP Points.
welcome
These codes have a short lifespan and will expire if not used in time. Therefore, it's highly recommended that you redeem them as soon as possible to enjoy the associated rewards fully.
How to redeem codes?
To avoid any potential errors when inputting these codes, it's important that you follow our instructions.
Open The Grand Mafia on your Android or iOS device.
Begin by tapping on the profile icon, usually situated in either the top left or right corner of the screen.
Once you've accessed your profile, locate the "Redeem Codes" option and tap on it. This action will open a new window where you can input your code.
Within the new window, you have the choice to either manually enter the code or paste it. Be sure to verify the code's accuracy.
Tap the "Redeem" button to instantly claim your free rewards. Your rewards will be added to your account and ready for immediate use.
Now you can fully enjoy and utilize your newly acquired rewards.
Expired Codes
MejorAmigo23
TheFoJ2023
6ragonBoat22
SUPERPAPA
Nati0nal2o22Day
20Bierfest22
WEstate2022
Urabon22TGM
TGMKURBAN79
thefoj2022
stannirules
festajunina
Veranit008
mafia1eto
cnmannemtgm
6dbfestival3
gw0501
showaday
GRANDMAFIAPTBR
7eastermafia7
tgm1h48m
frauenpow8er
maslenitsa22
mafiastyle240
Ihaveadream
2Happy0New2Year2
happytcgnmy
teesperacarnaval
j0y3ux2022
christmas25
montgolfiere
mafia1126
thxgiving
Golden11
TGM12
mafia777
N1eiger2
Sh0ppingweek
zimablizko
1dou10ble0
mafiagoda
5enty4br
2Labor96Day1
perle7
letotgm
mag7pie
8double8
Eisessen
hegem0ny
Jewel1pack
Juil1et4
indday21
Strandundbier
musique621
1zongzi4
RUSDAY12
5Pfinstern23
Yonitgm
Jade666
Newrockstars
Mothersday
May1Day
Secritrice777
MafiaPate
Vostok1
QmTaqing
Thegovernorswar
Beginnthier
Printemp3 (Expired)
Tgmru1 (Expired)
Intwomensday
Snowstormno1
yuan20xiao21
Gutentag (Expired)
HyValentineDy
Pheasant (Expired)
bonjour (Expired)
Killerqueen (Expired)
berserker (Expired)
zufluchtsort (Expired)
diamanten (Expired)
How to Grow Faster in The Grand Mafia?
As every ambitious player knows, growing and expanding in this game requires more than just raw power – it requires wit, strategy, and a touch of insider knowledge. We understand the thrill of progression and the hunger for domination, and that's precisely why we're here to elevate your game.
Apart from gifting you with cheats for free resources to give you a head start, we're also unveiling some priceless tips and tricks. These strategies have been curated through extensive gameplay, understanding the game's mechanics, and learning from the top players. So, if you're looking to gain an edge over your competitors and skyrocket your growth, you've come to the right place.
Engage in Events
Personal Events: These are essential. They offer various rewards that significantly boost your progress. To illustrate, I was able to quickly complete an event by speeding up my investments during a hell event, garnering a plethora of resources such as speed ups, crates, and gold.
Dailies: It's paramount to engage in daily tasks. From these, you can acquire equipment crates, speed-ups, and even diamonds. Staying engaged will provide an influx of resources and growth.
Strategic Investments and Speed-ups
Using your speed-ups wisely is key. By timing it right, you can complete more events, and subsequently, amass more resources. Furthermore, with the gold and resources earned, you can swiftly train your troops, which is yet another step towards rapid growth.
Building Strategies
Here's a neat trick: you can demolish one of your buildings and then level it up for free, utilizing the free levels. Repeat this process, and you'll find that you've efficiently maxed it out with minimal resources.
Utilizing Specialties
Ensuring that you always have your optimal specialties active is crucial for growth. By maxing out everything essential and beneficial, you can significantly expedite your progress.
Equipment and Buffs
Always remember to click on the green button to switch equipment and add buffs. This tool provides guidance on optimal choices, helping you enhance your stats and efficiency. For instance, by merely changing one weapon, I achieved an additional 22 training, emphasizing the importance of these adjustments.
Utilize Additional Features
The game provides other beneficial features like gold production. While some may have limited access to these, everyone has access to features like construction, investment, and quick robbery. By utilizing these features, you can make vast strides in the game.