The Wolf Online Multiplayer Simulator is a free-to-play game published by Swift Apps LTD where you play as a lone wolf. Practically the game is a mobile RPG and besides stunning graphics for a mobile game, it includes features such as hunting for food, forming packs with other players, and competing against other packs for territory. It is available on mobile devices and can be downloaded from the App Store or Google Play.
The Wolf Gameplay Review
You start a game in co-op mode which is the only mode unlocked on level 1. UI is simple enough, you use your left thumb to move around and right thumb to attack. In the upper right corner of the screen there is a mini map with points of interest which allows you to get around easier. Your wolf must hunt for food to survive and remain healthy. When you start, you can solo hunt only small animals, such as rats, rabbits, deer, and bigger animals with the help of other players (moose). It is worth noting that you cannot attack other players in co-op mode. Other modes which you unlock as you level-up are PVP (level 5) and Custom (level 8).

The game includes variety of maps which are unlocked depending on your level. The maps include Green hills, Dark forest, Wild tundra etc. Also, you can join or create packs with other players. Packs can help you hunt more effectively and defend the territory of your wolf pack. As you progress through the game, you can improve wolf's abilities and skills, such as increasing its strength or stamina. Also, you can choose from different kinds of wolf subspecies (both real and fictional) such as, Siberian wolf, Norwegian wolf, black wolf etc.
What are gems and how to get them?
The game uses a currency called gems that can be earned through gameplay or purchased with real money. With ruby/gems you can purchase in-game items such as skins, equipment, and other items to upgrade your wolf, or to unlock other wolves. You can also use gems to purchase in-game currency like gold and silver, which is used to purchase other items in the game. The in-game currency can be used for things like buying food, upgrading the wolf's abilities, or buying special items. There are a couple of ways to earn gems.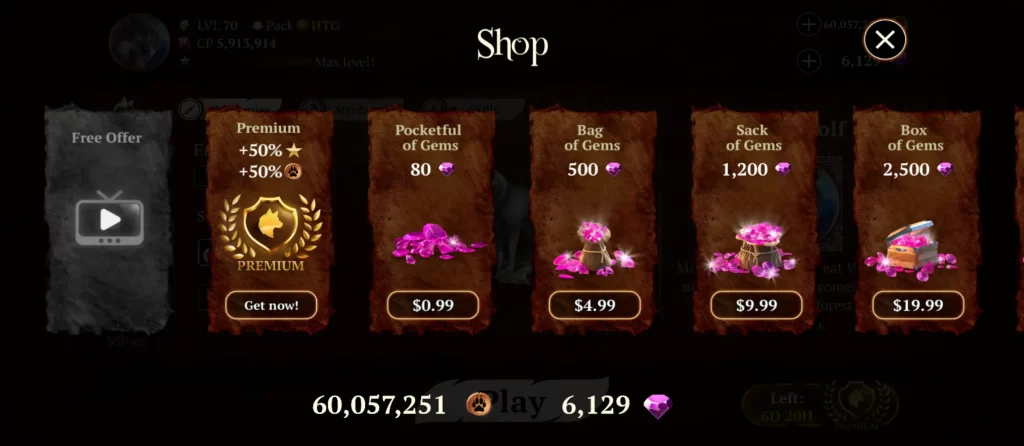 Daily log in, completing missions and achievements (daily and weekly quests), hunting and scavenging for food and selling items (such as pelts and bones) are all ways to earn Gems through playing the game itself. Also, you can purchase additional Gems with real money through in-app purchases or watch ads in exchange for in-game currency.
To conclude, the Wolf Online Multiplayer Simulator is a free-to-play RPG mobile game with beautiful graphics for a mobile game, interesting gameplay, controls which you get used to easily and tons of upgrade possibilities, so don't miss it.
If you watched tutorial video we made for you with full attention, as we suggested, you should know exactly how to hack The Wolf – you should have any second thoughts because everything is explained precisely. The GoCheat injector you are going to use is safe, reliable, and really quick. When you get there, look for the game you want. Tell us your username and don't forget to verify – finish offers. After you refresh the game, you will see free gems loading to your account! It will look like magic, but it is true!
The Wolf hack we showed you can be used whenever you want, just grab your iPhone/Android and there you go! Share this discovery with your gaming friends – they will surely appreciate it!
or Download Modded Version Below!