Hello, it's Daniel Dupree here from LevelBash, the go-to hub for mobile gaming insights. As an aficionado of games like West Game, I'm excited to share this guide aimed at helping players overcome the common challenge of gold scarcity. Gold is the lifeblood of West Game, a game that demands players to juggle economy, military, and diplomacy on both iOS and Android platforms. This guide, packed with strategies and insights, will enhance your gameplay by efficiently managing and utilizing gold. Let's dive in!
Smart Ways to Manage Your Gold Supplies
Effective gold management is key in West Game. One crucial aspect is prioritizing upgrades and investments. For instance, upgrading your Town Hall too hastily can leave you vulnerable, so it's wiser to invest in shields for gold if needed. Moreover, playing the casino in the game can reward you with gold and other resources, so engage in these activities wisely​.
Gold bounties, another significant aspect, are long-term quests offering substantial gold rewards. Achieving goals like collecting 10 stars can net you 500 gold, and 30 stars can yield an impressive 3,000 gold. This long-term strategy ensures a steady gold inflow.
Another important strategy is saving your gold for significant investments, such as upgrading your VIP level. This not only increases resource production rates but also unlocks additional quests and free building upgrades, making it a wise long-term investment​.
Methods to Acquire Gold in West Game
Beyond participating in active events, there are several other methods to earn gold effectively:
Casino Gambling:

Engage in activities like three card monte at the casino. This does not involve betting but rather picking the highest-value card after a shuffle, with a chance to win gold, speed-ups, or resources​.

Fighting Outlaws:

Battling outlaws on the world map is akin to hitting pinatas filled with loot. These engagements don't require a full army but selected heroes, offering a chance to win substantial rewards, including gold. Note that certain research at the academy is required to engage in these battles​.

Museum Milestones:

Participate in timed events commemorating your state or server's milestones. Completing specific tasks like hunting Butcher Brothers or upgrading the Town Hall can yield large sums of gold​.

Assisting Civilians:

Occasionally, civilians appear to need help. Assisting them not only increases your resource production but also provides opportunities to earn gold​.

Completing Quests:

Engage in various quests, including growth quests, town quests, and VIP quests. These quests offer rewards upon completion, which can include gold. Be strategic about which quests to undertake, as some offer more lucrative rewards than others​.

Gold Bounties:

Long-term quests offering gold for achieving certain goals are another excellent source. Collecting stars in these quests leads to substantial gold rewards, like a 500 gold bonus for 10 stars or 3,000 gold for 30 stars​.

Saving Time Boosts:

While not a direct method of earning gold, judicious use of time boosts can save resources and gold in the long run. These boosts can bypass lengthy upgrade or construction times, allowing you to allocate resources, including gold, more efficiently elsewhere in the game​.
Each of these methods requires a strategic approach, balancing short-term gains with long-term planning to maximize your gold reserves effectively. By diversifying your methods of acquiring gold, you can ensure a steady flow of this crucial resource, enabling you to make impactful decisions and progress swiftly in the game.
How to Get Free Gold with Cheats?
West Game, like many other games, presents the challenge of maintaining a sufficient gold reserve. To address this, players can utilize cheat tools for an instant boost in gold. These tools offer a straightforward way to acquire unlimited gold, thus revolutionizing the gameplay experience​​.
This cheat tool is compatible with both iOS and Android devices. It's a secure and easy-to-use online app, providing a more enriched gaming experience by granting access to exclusive items and bonuses​​.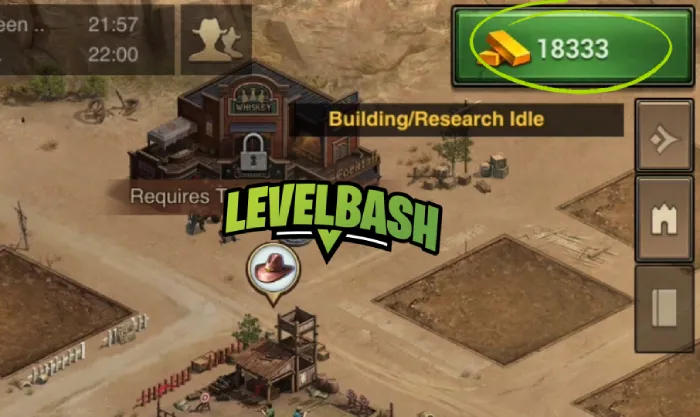 Here are the step-by-step instructions for getting free gold:
Tap the "

Get 18K Gold Now

" button.

Finish promotional offers from our sponsors for 24h access to

GoCheat Premium Boosters

.

Search for West Game game on GoCheat.

Enter your in-game ID/Username.

Tap on the "

Let's Go

" button.

When done, reopen the game and wait for gold to start loading.
Strategic Usage of Gold
The strategic use of gold is crucial for advancing in the game. Spending gold on VIP level upgrades significantly improves your resource production and access to quests. It's important to be selective and invest in upgrades that offer long-term benefits.
In summary, managing and utilizing gold effectively involves a balance of long-term planning, strategic spending, and taking advantage of opportunities to earn and acquire free gold. By following these strategies, players can significantly enhance their gameplay experience and become more competitive in the challenging world of West Game.