Governor of Poker 3, a highly engaging and strategic poker game, offers players the unique opportunity to earn valuable Team Points through various gaming methods. These points are pivotal for advancing in the game and reaping rich rewards. This guide delves into the nuances of earning Team Points, leveraging insights from the existing article on LevelBash and expanded research. We aim to provide players with the latest strategies and tips, ensuring they maximize their gains and enhance their gameplay experience.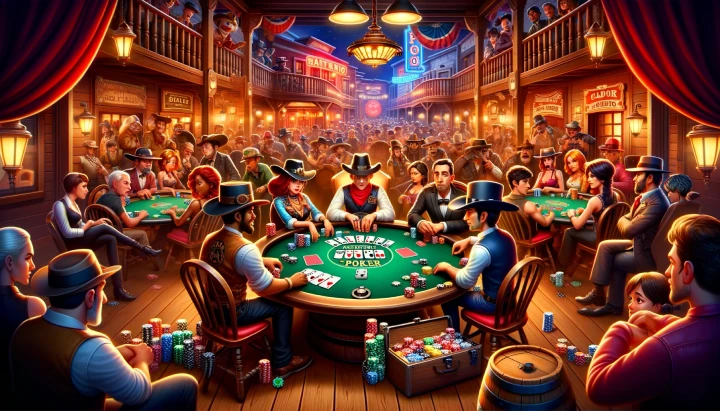 Understanding Team Points and the Team Challenge
What are Team Points?
In Governor of Poker 3, Team Points are crucial for players seeking to excel in the Team Challenge, a recurring event starting every Wednesday. To participate, players must either create or join a team. Points are accrued based on gameplay performance and betting amounts; higher bets yield more points. An XP Doubler Token, obtainable through Daily Activities, can double these points.
The Team Challenge Explained
The Team Challenge is a central aspect of Governor of Poker 3, providing an avenue for players to earn rewards by filling up a bar with Team Points. The more points accumulated, the better the rewards, with eight distinct chest levels offering various items.
Strategies for Earning Team Points
Poker Session Winnings
While initial poker winnings contribute significantly to a player's wealth, other sources, such as Team Chests and event participation, eventually overshadow these winnings. Long-term success in Governor of Poker 3 hinges on diversifying income sources beyond just poker session winnings.
Maximizing Event Participation
The game's Event Calendar offers daily goals yielding rewards and an Ultra Spin Token at the event's end, crucial for risk-free chip accumulation. Completing these daily goals is essential for consistent progress.
Daily and Weekly Objectives
Daily and Weekly Objectives are a reliable source of chips and event entry keys. Focusing on unlocking the final daily and weekly chests, which offer substantial rewards compared to lesser chests, is a strategic approach for players.
Team Chests as a Wealth Generator
Team Chests, awarded weekly to active team players, are a primary source of wealth in Governor of Poker 3. These chests can be upgraded by accumulating Team Challenge Points, earned through poker and blackjack winnings.
Gambling Sources: Slots and Blackjack
Slots in Governor of Poker 3 are high-risk, and players are advised to use them primarily for completing daily objectives. Blackjack, while theoretically positive in expected value (EV), demands perfect play and emotional control, making it a challenging avenue for earning chips.
Advanced Tactics for Team Points Accumulation
Efficiently Accomplishing Objectives
Strategically accomplishing Daily and Weekly Objectives is key to securing all relevant chests. This involves selecting the most effective methods for each objective, such as playing at lower stakes for certain objectives and utilizing the Team Points Doubler wisely.
Understanding Team Challenge Points
Team Challenge Points, vital for upgrading weekly team chests, are reset each week. The amount of points earned depends on winnings and the saloon's stakes. Higher-stakes saloons offer greater multipliers for team points.
Optimizing for Expected Value (EV)
In Governor of Poker 3, winning yields team points while losing doesn't penalize players with point losses. This unique aspect increases the EV of all actions, particularly when aiming for higher-level team chests.
Game Types and XP Doublers
Understanding the different game types, like Cash Games and Sit & Go, and the strategic use of XP Doublers in these games is crucial for efficient team point generation.
Moving Up in Stakes
Progressing to higher stakes saloons should be a calculated decision, based on having sufficient chips for rebuys and an understanding of the new playing environment. Switching tables to find less competent players can be an effective strategy.
Conclusion
In conclusion, mastering the art of earning Team Points in Governor of Poker 3 is a multifaceted endeavor, blending strategic gameplay, event participation, and efficient completion of objectives. By employing these strategies, players can significantly enhance their gaming experience, climbing the ranks and enjoying the rich rewards that Governor of Poker 3 has to offer. Learn about more ways to climb the ranks with a guide on how to get free chips and gold.