Monopoly GO brings the classic board game to the online world. It offers a fun and exciting gameplay that mixes strategy with luck, making it a unique place for virtual property enthusiasts to show their skills. This guide is here to show you a new way of getting free dice rolls with reward links. Keep reading and you will find all the necessary explanations and how the things with these links work. The one thing is for sure – you will be amazed and your account is always going to be full of rolls! Try it, and your game will always be enhanced, making you an unbeatable player!
What are Monopoly GO Free Dice Links?
Monopoly GO free dice links are special links that give you a certain number of extra rolls, it is like a hack for advanced players. The developers of the game often share these through social media to keep players interested and playing often. When you use these free links, you can roll the dice more times without having to wait for the usual refill time or spending any money in the game.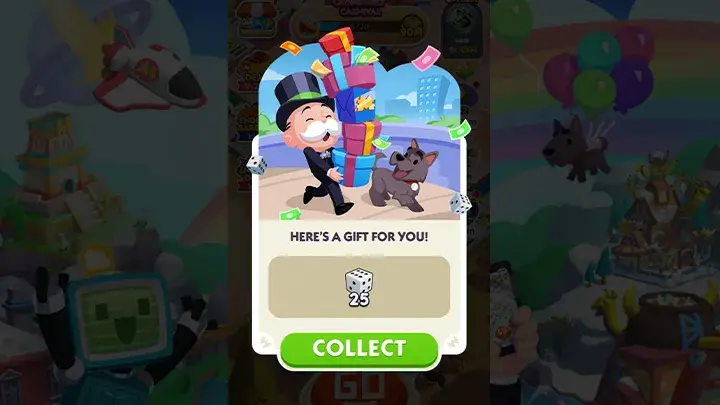 This is great because it lets you play more, move around the board more, and possibly win faster.
How to Redeem Monopoly Go Dice Links
Redeeming Dice Links in Monopoly Go is a straightforward process that can significantly enhance your gameplay. To get started, ensure you have reached level 15 and unlocked the Albums feature in the game. This prerequisite is essential for redeeming the dice links.
Step-by-Step Redemption Process:
Click the Link: On your device where Monopoly Go is installed, simply click on the provided Dice Link. This action will redirect you to a new webpage.
Open in Monopoly Go: Upon clicking the link, you will be prompted to confirm if you want to open it in the Monopoly Go app. Select 'Yes' or the equivalent option to proceed.
Receive Your Dice: The app will then launch, and if the link is still active, you will receive an in-game notification confirming that you have obtained some free dice rolls.
By following these steps, you can easily redeem the dice links and enjoy additional rolls in your Monopoly Go experience.
The List of Active Links
To make things easier for you, here is the list of all active links, so you don't have to waste time visiting all official pages and looking for them.
We will keep the list updated regularly so you can always rely on us! Simply click on the latest link below to get yourself some free dice! Don't miss this special opportunity to get 18,000 free rolls!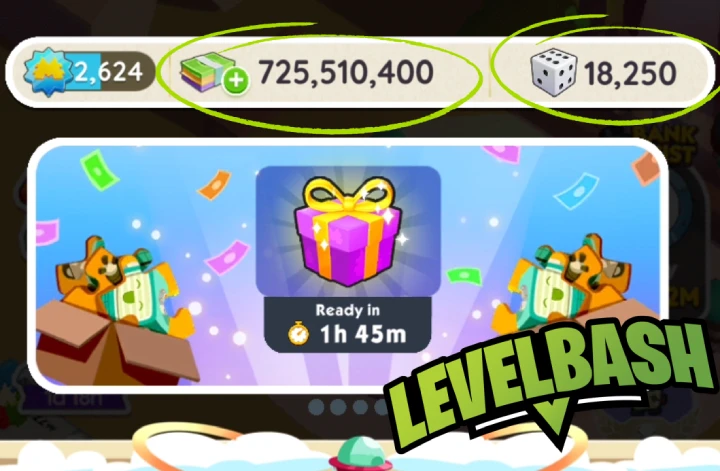 Here is the list of links that are currently available:
Where to Find Active Reward Links?
These links can be found on social media – Instagram, Facebook and Discord, and they are announced by the developers of the game. When you click on them, you will be rewarded with a certain number of free rolls which are loaded to your account instantly, and ready for you to use them.
Instagram
When you're on Instagram, tap on the profile picture of the Monopoly GO Instagram profile to watch their stories. Sometimes, they include links that give you 25 free dice. Older stories might be tricky to find, but don't worry, we've got some of the latest links right here for you. In later text, you will find the list of all currently active links – we update it regularly.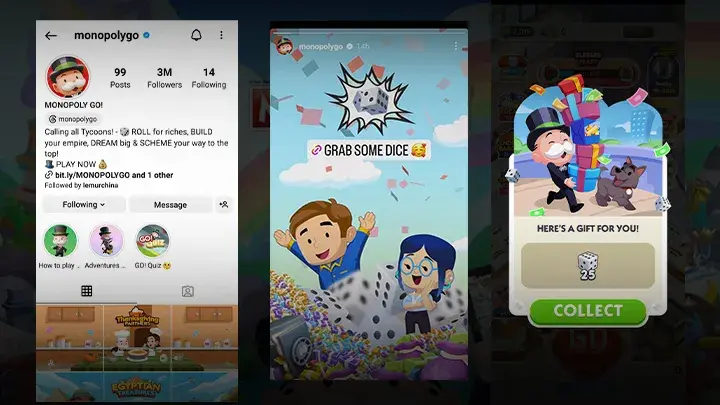 Discord
The official Discord server, managed by Scopely, is the best place for fair sticker trading and game discussions. Joining this channel means even more free dice. Keep an eye on the Announcements section, they share free dice links every week along with game updates. The Discord channel is also perfect for chatting with fellow players, staying updated with game news, and trading stickers with other fans.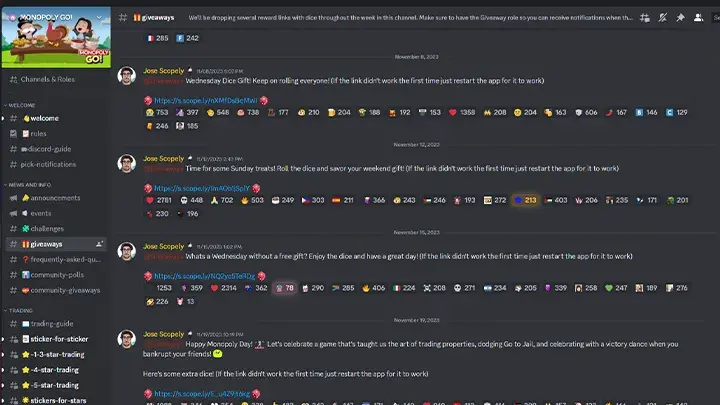 Facebook
You can also find free dice on the Official Monopoly GO Facebook page, embedded in posts or in stories. Visit regularly to see if new links are revealed, or bookmark our page because we will do this every day instead of you. Typically, Monopoly GO gives away 25-50 free dice at a time, usually around 25 or 30. It is not much, but can be helpful.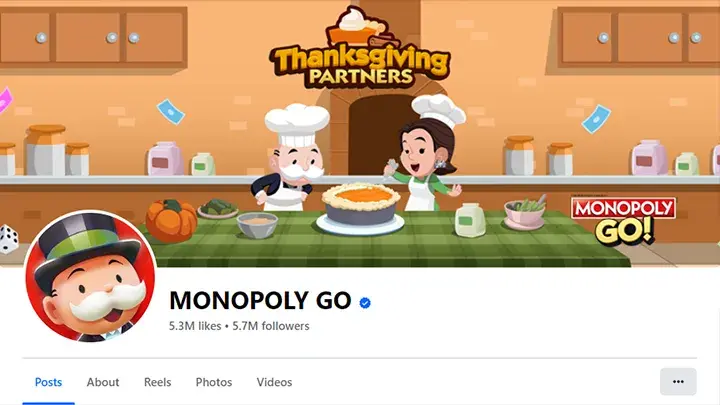 Also, you can earn rolls if you invite your Facebook friends to join the game. The prizes were generous but due to some players exploiting the Facebook friend feature for excessive dice, new rules have been set. Now, you can only receive dice from up to 10 Facebook friends, with a total limit of 1,000 dice.
How to Use Dice Effectively?
Effectively using dice is crucial for navigating the board, collecting money, and engaging in various in-game activities like attacking other players' cities, staging bank heists, and purchasing properties. Here are some key strategies for using dice in the game:
Understanding Dice Rolls:

Rolling the dice in Monopoly GO is straightforward. You tap the go button to roll, and your roll can result in familiar outcomes like chance cards, community chest, or income tax payments. Most rolls will earn you money, but some may require payments, offering a shield in return.

Strategic Attacks and Heists:

The game features lucrative rolls like 'shut down' and 'bank heist.' 'Shut down' allows you to attack another player's city, potentially earning a significant amount of money. With 'bank heist,' you engage in a card-matching game to earn money by stealing from other players. Both these rolls have variations in size and potential earnings​.

Defensive Shields:

You can hold up to three shields at a time, protecting you from other players' attacks in shutdown mode. If you run out of shields, you'll need to roll the dice until you get a space that offers a free shield​.

Community Chest and Friendship Benefits:

The community chest builds up over time and offers significant rewards when opened. The rewards increase depending on the number of friends you have in the game. Adding more friends can increase your earnings from the community chest​.

Completing Color Sets:

Similar to traditional Monopoly, completing a full-color set of properties in Monopoly GO earns you a large cash bonus and sticker rewards. Money collected can be used to purchase and upgrade buildings, boosting your income and net worth​.

Quick Win Quests:

The game offers 'quick win' side quests that reward you with cash, rolls, and other items upon completion. Completing these quests also contributes to a weekly green checkmark bar, which can yield rare stickers and free rolls​.

Managing Rolls and Multipliers:

The game provides five rolls per hour. Using multipliers can increase your prizes but will also consume more rolls. Players can earn free rolls through various means, including completing sticker packs, which can yield hundreds or even thousands of rolls and a substantial amount of cash​.

Claiming Free Gifts:

Occasionally, the game's shop offers free gifts containing monopoly money and dice rolls. Claiming these gifts regularly ensures that you maximize your rewards and potentially increase the maximum number of rolls you can hold​.

Participating in Special Events:

Look out for special event games that pop up in Monopoly GO, as they can be excellent ways to earn both monopoly money and rolls. While some events might require real money, many offer the opportunity to earn rewards for free​.