MONOPOLY GO New Shield Skins Explained
Monopoly GO, the much-loved board game turned mobile sensation, has recently added an exciting cosmetic feature: shield skins! This feature not only allows players to add a personal touch to their game but also brings in a strategic element as collecting shields now rewards you with in-game prizes, much like tokens. Dive into this comprehensive guide to understand everything about this fascinating update.

Why the Hype About Shield Skins?
Since the September 2023 update, players have been buzzing about the innovative revamp of the shield system. While the fundamental mechanics of shields remain unchanged, the introduction of customizable shield skins has added a new layer of enthusiasm.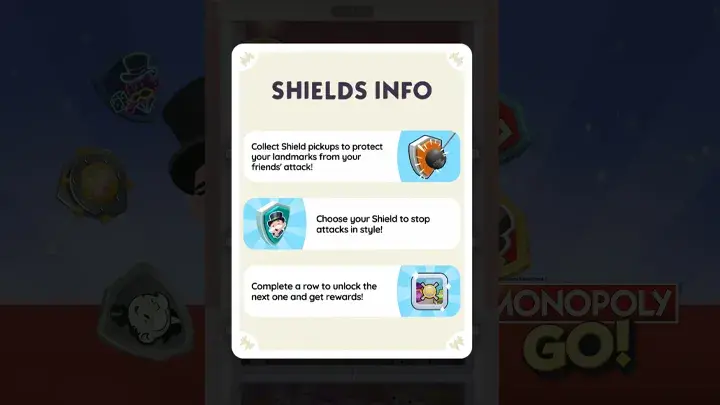 Shields still serve their core purpose: they're collected when landing on shield tiles, and they deplete when you're attacked in Shutdown. When the shield count drops to zero, your landmarks suffer, and your net worth takes a hit. However, with the new system, players can now collect a variety of stylish shield skins, amplifying the game's visual appeal.
Spotlight on New Shield Skins
Monopoly GO's developers have begun rolling out a plethora of exquisite shield skins. These can be glimpsed in various places in the game, including high tournament rankings and as rewards for quick wins. Not only do these skins elevate your board's aesthetic, but collecting enough of them also entitles you to special rewards, akin to the token system. Avid players have already witnessed some of these shield skins in promotional images, eagerly awaiting their release and anticipating what other designs are in store.
Acquiring Shield Skins
There are multiple avenues to get your hands on these sought-after shield skins:
Quick Wins: Keep an eye on your weekly prizes. Shield skins may now feature as the ultimate weekly reward.
Tournament Rewards: Climbing the ranks in tournaments can also yield shield skins for those who finish at top positions.
Special Events: Monopoly GO often launches events, like the "Martian Mysteries Tournament," where unique shield skins, such as the futuristic Peg-E Shield Skin, can be won.
How to Get New Shield Skins in Monopoly GO?
How many shields can one expect in the game? How to get different shield skins? These are questions that many gamers ask. The answer is dynamic. With the developers consistently introducing new updates and hosting special events, the number of available shield skins is always on the rise. While an exact count may be elusive, avid players can get a visual treat and a sneak peek into the upcoming shield skins via the in-game promotional pictures. It's safe to say that Monopoly GO will never cease to surprise its players with an ever-expanding array of shield designs.

Navigating Your Shield Collection
Now that you're accumulating these shields, the next pertinent question is, where do you find them? Monopoly GO's thoughtful design ensures players can easily access and manage their shield collection.
Welcome to the New Shields Showroom – the dedicated space to view, manage, and admire your shield skins. Accessing this showroom is a breeze:
Shield Icon: Located conveniently at the top right corner of the user interface, a quick tap on the shield icon instantly takes you to your shield collection.
3D Shield on the Game Board: As you navigate your game board, tapping on the displayed 3D shield also grants access to the showroom.
Three-Line Menu: The familiar three-line menu, situated at the top right of the user interface view, houses a pathway to the Shields Showroom.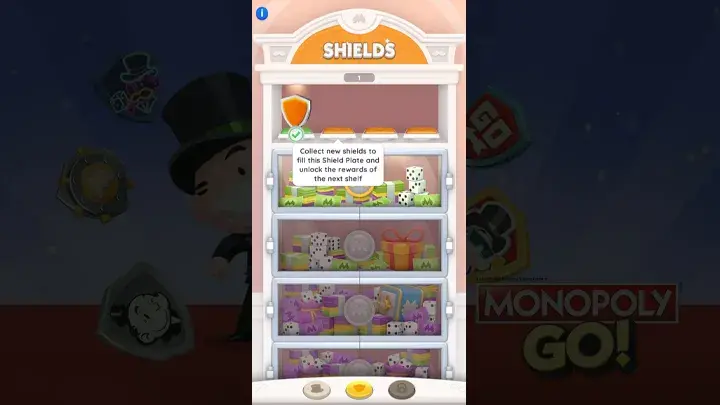 Interestingly, for those familiar with the token collection, finding your shields becomes even more intuitive. The shield collection mirrors the token showroom's location, ensuring continuity in user experience.
Maximizing Your Shield Benefits
With the introduction of the shield skin system, players need to strategize to make the most of their shields:
Shield Collection: Landing on shield tiles increases your shield count. The number of shields you acquire depends on the multiplier you're using.
Shield Overflow: If you collect more shields than your level's maximum limit, the surplus shields convert into dice on a 1:1 basis. This not only boosts your defense but also benefits your gameplay.
Avoiding Shield Loss: A savvy trick to conserve shields is to hold off on building until you can complete a level in its entirety. By doing so, you reduce vulnerability to Shutdown attacks, thereby safeguarding your shields and net worth.
Maintaining Shields
A savvy strategy to safeguard your shields in Monopoly GO is to abstain from building until you're poised to complete a level in its entirety. Consequently, you should commence building only when your finances are robust enough to see the level through.
This tactic presents dual advantages. Firstly, during a shutdown phase, opponents are rendered incapable of launching attacks against you, thus ensuring your shields remain intact. Secondly, your net worth remains shielded from any potential losses. Moreover, there's a delightful perk associated with the shield tiles. Each time your token graces a shield tile, it's akin to a bonus turn. Not only do you reap the financial rewards of that particular tile, but you also regain all the dice you cast to arrive at that spot, effectively allowing you to double-dip on benefits. In case that you struggle to regain rolls, take a look at our free dice hack!
The introduction of shield skins has indisputably added an exhilarating twist to Monopoly GO. As players around the globe hustle to collect, customize, and strategize, the game's allure only intensifies. Whether you're in it for the aesthetic pleasure, the strategic gameplay, or the sheer love for Monopoly, these shield skins promise a revamped and enriched gaming experience.
While having fun exploring new shield skins, don't forget that the Epic Myths Album Event is still going on. Until the end of November 2023, try your best to collect as much stickers as possible, because the rewards which await you when finish albums are more than generous! The patience and hard work will surely pay off!